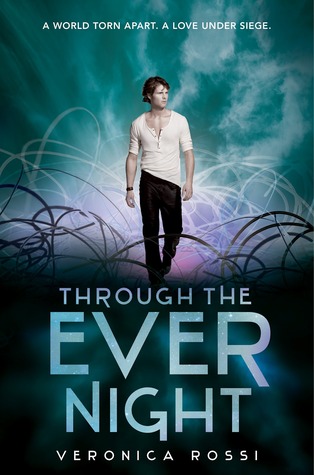 Pages: 352
Published: January 08th 2013 by Harper Teen
# in Series: #2 in Under the Never Sky series
Source: Harper Teen via Edelweiss
The Book Depository // Amazon // Chapters Indigo
Summary from Goodreads:

"It's been months since Aria last saw Perry. Months since Perry was named Blood Lord of the Tides, and Aria was charged with an impossible mission. Now, finally, they are about to be reunited. But their reunion is far from perfect. The Tides don't take kindly to Aria, a former Dweller. And with the worsening Aether storms threatening the tribe's precarious existence, Aria begins to fear that leaving Perry behind might be the only way to save them both.

Threatened by false friends, hidden enemies, and powerful temptations, Aria and Perry wonder, Can their love survive through the ever night?."
My Thoughts & Review:
 Wow. This was absolutely amazing.
Through the Ever Night takes place essentially where Under the Never Sky ends. I'm not going to do a mini brief for this one either, simply because I want to keep this as spoiler free as possible.
I really enjoyed Under the Never Sky. I thought the character development was good, the world building was decent and the plot was definitely interesting. Through the Ever Night surpassed by a long shot. One of the reasons I think I wasn't head of heels for UTNS was due to the fact that it was one of a few sci-fi books I had picked up recently and I still wasn't used to how "out there" some of the ideas were. By Ever Night I didn't even care how unbelievable some of it was… it was just too good.
I loved Aria the entire novel. Which was an extremely pleasant surprise as I loved AND hated her in UTNS. My love for Perry grew tenfold. I just absolutely adore him as a character. I love how a male character can show such raw emotions and that he isn't completely tough all the time. I loved to see his growth as a person as well from him becoming Blood Lord. I actually loved the dual point of views for this sole reason: I don't think we would have seen Perry's character development if it wasn't for the dual POV's.  I also said this last time and I'll say it again. I freakin love Roar. To be honest… I kind of wish he was the MC sometime. I'm not sure why but he is the perfect combination of a male character: Charming, Sexy, Attitude, Tough… ahhh, he's just perfect.
I really liked how the world was explained a bit more as well. I liked hearing more about how the world was now this way and especially the better explanations of the Aether. The Aether totally confused me at first but now I think I'm catching on 😉
I think I loved this book to the fullest due to the simple fact that since we had already been exposed to all the characters, it was entirely plot driven this time. I absolutely loved how it just dove in from the jump. It certainly didn't suffer from second book syndrome-I actually loved it more 🙂
If you liked Under the Never Sky, you will absolutely LOVE Through the Ever Night. Now I just have to wait for the third book….
My Rating:


 Happy Reading!