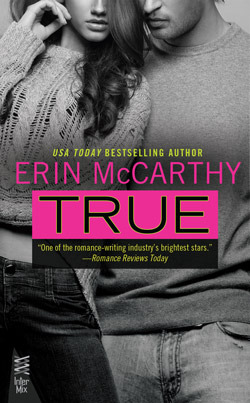 Pages: 238
Published: May 07th 2013 by Penguin Publishing 
Series: True Believers #1
Source: Penguin Publishing via Edelweiss

When Rory Macintosh's roommates find out that their studious and shy friend has never been with a guy, they decide that, as an act of kindness they'll help her lose her virginity by hiring confident, tattooed bad boy Tyler Mann to do the job…unbeknownst to Rory.

Tyler knows he's not good enough for Rory. She's smart, doctor smart, while he's barely scraping by at his EMT program, hoping to pull his younger brothers out of the hell their druggy mother has left them in. But he can't resist taking up her roommates on an opportunity to get to know her better. There's something about her honesty that keeps him coming back when he knows he shouldn't…

Torn between common sense and desire, the two find themselves caught up in a passionate relationship. But when Tyler's broken family threatens to destroy his future, and hers, Rory will need to decide whether to cut her ties to his risky world or follow her heart, no matter what the cost…


When I received True, I thought that I would like it for sure… I am in LOVE with new adult contemporary romance right now and don't seem to be tiring of it; I had no idea that I would LOVE it and stay up until the wee hours to just read a bit more.
I loved Rory. Absolutely adored her. She was such a real character for me and I'm struggling lately to find main characters that are actually realistic. Her fears, feelings, actions… they all just hit a soft spot with me and I really enjoyed her. I also adored Tyler. Holy smokes I adored this guy. I've said it too many times over that bad boys are my weak spot. Not only was Tyler a bad boy, but he had an incredible sweet and kind heart. The way he protected and cared for his brothers made we swoon over him. I had a love hate relationship with her two best friends though. I could absolutely not understand why they ever thought it would be ok to do some of the things they did to Rory(if you read this… you know which part I am referring to). Sure Rory is a virgin… but is that such an AWFUL thing?! I think these "friends" of hers are pretty misguided and immature.
There were some serious topics in the plot, abuse, drug addiction, death and I thought that Erin McCarthy did a great job of portraying them realistically and emotionally. I felt so attached to Tyler's brothers when I was finished that I wish the book hadn't of ended. I just wanted more! Another area that I thought was written wonderfully was the relationship between Rory and her father. He was so concerned with his old daughter and his reactions felt real to me. Too much lately I feel that situations are just so out of the realm of possibility but True was not an example of that by any means.
I highly, highly recommend True if you adore new adult contemporary romances. The characters are amazing, the story is great and it's a book you just wont be able to put down. I was OVER THE MOON to find out that there will be a companion novel coming out later this year so I will have more of Rory & Tyler <3