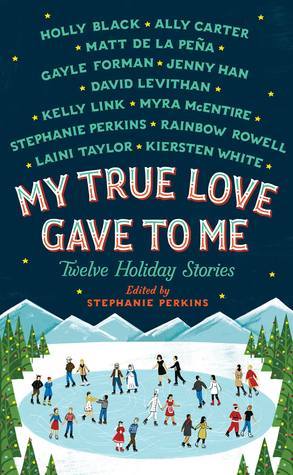 My True Love Gave To Me by Ally Carter, David Levithan, Gayle Forman, Holly Black, Jenny Han, Kelly Link, Kiersten White, Laini Taylor, Matt de la Pena, Myra McEntire, Rainbow Rowell, Stephanie Perkins
Published by St. Martin's Griffin on October 14th 2014
Pages: 320
Source: St. Martin's Press via Netgalley
Add on Goodreads
Amazon•Kobo•TBD
My Rating:

If you love holiday stories, holiday movies, made-for-TV-holiday specials, holiday episodes of your favorite sitcoms and, especially, if you love holiday anthologies, you're going to fall in love with MY TRUE LOVE GAVE TO ME: TWELVE HOLIDAY STORIES by twelve bestselling young adult writers, edited by international bestselling author Stephanie Perkins.

Whether you celebrate Christmas or Hanukkah, Winter Solstice or Kwanzaa, there's something here for everyone. So curl up by the fireplace and get cozy. You have twelve reasons to stay indoors and fall in love.


I was really excited to get approved for My True Love Gave to Me on Netgalley, even more so when I seen reviews popping up in the blogosphere. I couldn't wait to get started on it! Since it's a book made up of twelve separate short stories, I decided to individually rate and review each story and then give my overall thoughts at the end.
Midnights by Rainbow Rowell ★★★½
This being only the second story I have read my Rainbow Rowell, I was immediately reminded of why I liked her tales. I love her writing style, and her ability to draw you in emotionally to the story. I really enjoyed Mags and Noel's story, but it was definitely predictable. The way the story opens up, immediately sets the premise for how it will end so that lowered my excitement level a bit. And, even though I knew it was a short story anthology going in, I think this one has the potential for a larger novel. I liked the characters immediately, and although the story was done well and you got quite a bit, I would have liked to see more!
The Lady and the Fox by Kelly Link ★★½
I have no idea what this one is really about, honestly. I loved Kelly Link's writing, and I was completely wrapped up in the story from beginning to end but I had zero idea what was going on. I didn't really understand the snow-ghost man, or how this could even happen but the part that annoyed me the most was that Miranda's mom being in jail was referenced so many times, with NO story about why she was there. And in a Thai jail no less (when this is set in England). It just became annoying because that was the part of the story that I focused the most on, and I was left unsatisfied.
Angels in the Snow by Matt de la Pena ★★★
I really, really enjoyed this one and honestly it would have gotten a higher rating except for the fact I felt like it just ended. I wanted more of Shy and Haley's story! I did really like the ending because it tied back to Shy's past a bit but GOSH, I liked these characters way too much for it to end so quickly. I thought it was romantic and light but with enough of an emotional back story to really draw you in.
Polaris is Where You'll Find Me by Jenny Han ★★★½
This is probably one of my favorite of the bunch, and the only reason I rated it so low was because of the ending! Ugh, the ending… I wanted more!! I loved Natty, and the concept that she was adopted by Santa and living at the north pole. I thought it was so cute and unique and yet again, a story that I would have liked a full length story of.
It's a Yuletide Miracle, Charlie Brown by Stephanie Perkins ★★★★
By far the best story that I had read at this point in the book … Stephanie Perkins just knows how to write a feel good story folks! I couldn't believe how in love I fell with North and with just this short story. I thought it was romantic, sweet and the back story of … family really took me by surprise. AND this one wraps up in a nice way, you basically know where the story is going to go so it left me satisfied knowing it was all I was going to see from these characters.
Your Temporary Santa by David Levithan ★★★

I thought this was a nice sweet story about new love, finding yourself and believing. I really loved how it ended and I'm glad it finished off with a nice tone because it started to feel really sad and not how I would like a Christmas story to end! I loved the exchange between 'Santa' and Riley and thought it as so touching that Connor would still want to carry this tradition onto his sister. This made me realize just how much I miss being a child at Christmas!
Krampuslauf by Holly Black ★★★
This story was just pure entertainment and a lot of shenanigans. I hadn't read anything from Holly Black before, but I really, really enjoy her writing. I liked learning about Krampuslauf, and I thoroughly enjoyed the magical air this story had. I thought it was odd of course, and I wouldn't say it was best for a Christmas anthology but I enjoyed it none the less.
What the Hell Have You Done, Sophie Roth by Gayle Forman ★★★★
Another favorite for sure. I thought this had all the warm and fuzzy feels of a perfect holiday story. I loved both of the main characters featured and the FOOD! Omg, I have never had apple pie with cheese in my life but craved it after this 😛
Beer Buckets and Baby Jesus by Myra McEntire ★★★
This story was just sweet. I have no other words for it but sweet. I loved the romance, I loved the plot, and I especially love that even "conflict" was worked out. It was just a perfect example of Christmas spirit and I really enjoyed it.
Welcome to Christmas, CA by Kiersten White ★★★★★
This was hands down my absolute favorite story of the book. I can't exactly pinpoint what it was, but this story completely swept me off my feet and just made me FEEL Christmas. It was so sweet, romantic, family driven and I even CRIED it made me so happy. GAH, I don't want to spoil anything, but this was the best of the bunch for sure!
Star of Bethlehem by Ally Carter ★★★★
I really loved this one as well. I was totally confused the first bit of the story, but I realized at the end that you were supposed to be! It's such a fantastic story of family and love and I finished so content with how it finished!
The Girl Who Woke the Dreamer by Laini Taylor ★★
Yah, this wasn't my favorite of the bunch that's for certain. Honestly, I felt sad the entire time I read it. And I found it draggy. The ending was nice and Christmas-like, which is really the only reason I gave it 2 stars. I liked Laini Taylor's writing as well, since this is the first glimpse of it I have ever gotten.
So basically, I enjoyed this compilation overall! I will be purchasing a copy of this for my own shelves, despite not enjoying some of the stories as much as the others. (Have you seen the UK version of this? STUNNING!) I think all in all its a great mix of stories, and I definitely am the black sheep with only rating it three stars. My True Love Gave to Me has something for everyone and I loved the range of genres and magical elements that it reached.