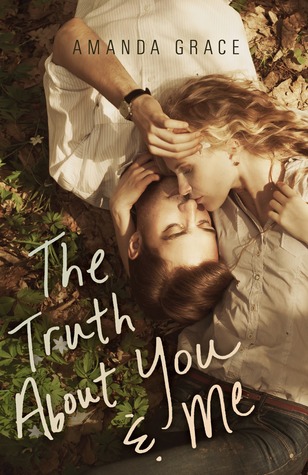 Pages: 261
Published: September 08th 2013 by Flux 
Series: N/A – Stand Alone
Source: Flux via Netgalley
Amazon | TBD | Kobo | Goodreads

Smart girls aren't supposed to do stupid things.

Madelyn Hawkins is super smart. At sixteen, she's so gifted that she can attend college through a special program at her high school. On her first day, she meets Bennett. He's cute, funny, and kind. He understands Madelyn and what she's endured – and missed out on – in order to excel academically and please her parents. Now, for the first time in her life, she's falling in love.

There's only one problem. Bennett is Madelyn's college professor, and he thinks she's eighteen – because she hasn't told him the truth.

The story of their forbidden romance is told in letters that Madelyn writes to Bennett – both a heart-searing ode to their ill-fated love and an apology.


I hadn't heard a single thing about The Truth About You & Me when I requested it for review. The story sounded interesting and the cover was gorgeous so I decided to give it a whirl…
This review is extremely difficult for me to write. I'm not sure I can sum up entirely why I disliked The Truth About You & Me so much. The teacher/student relationship, while wrong and gross, isn't what turned me away so much. I've read books with the same type of conflict and was fine and let's be honest, Pretty Little Liars is one of my favorite TV shows, so I can't be that upset by it. Please excuse me if this review is disjointed and jumbled, but I will try the best I can 😛
First of all the main character Madelyn is not one that I related with or even liked. I thought she was whiny, selfish and made quite possibly, the worst decisions in the world. The entire story is written in a letter that Madelyn wrote to Bennett(her teacher) because she wants to explain why she failed to let him know that she was 16 years old and to be frank, I really disliked her voice. It bothered me so much that, instead of seeing the opportunities for her education in front of her, she chose to complain and cast her parents in a bad light. I understand that her parents were pushy and wanted her to succeed(because that's obviously the worst thing in the world) but she didn't stop for a minute to consider that maybe her parents realized her potential in life and wanted her to maximize on that. I didn't connect with Bennett at all but I think this was due to the fact that the medium that he was delivered in is not one I'm used to… Madelyn is writing Bennett a letter so she is essentially writing to him. It was very strange reading it from this point of view, because she already knew who Bennett was so there wasn't any character development on his side.
I think the entire reason why I didn't like this story because Madelyn tricked Bennett. It wasn't this out of reach romance from Bennett's point of view, he did everything right. Madelyn is in a pumped up high school program because of her grades where she basically gets to take a first year of college and have it counted towards her high school year. She shows up, in college, and falls (basically immediately… but that's a whole other issue) for her teacher. They take a hike… Madelyn tries to kiss him, and Bennett turns her down. Until the semester is finished, and she is no longer her student… because he thinks she is 18. Madelyn swindled him and the only time I felt any emotion was when he found out, that poor guy… he had no idea and has to live with the fact that he slept with a sixteen year old… and HE IS TWENTY SIX. I know she is apologizing in her letters, but the story really showed immaturity in the main character and the fact that she seemed to only take responsibility on the surface for her actions, it was gross. Oh and let it be known, that as soon as Bennett found out, he was out of the picture.
You might ask why I rated it even 2 stars, if I didn't like this story? Amanda Grace's writing. She had a wonderful, lyrical writing style and I found myself highlighting several quotes and passages throughout the story. It really was the saving grace, and if it wasn't for her enjoyable prose, I probably would have stopped reading altogether.
I, personally, cannot say I recommend The Truth About You & Me but I won't be dismissing Amanda Grace from my TBR. I want to see what else she can bring to the table, because her writing style is definitely wonderful.