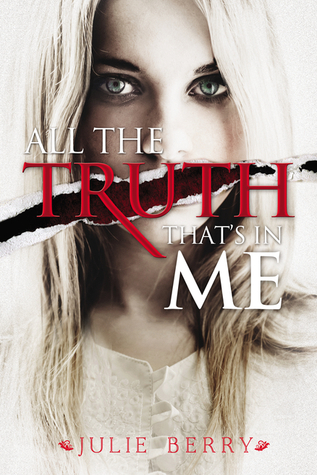 Pages: 274
Published: September 26th 2013 by Viking Juvenile 
Series: N/A – Stand Alone
Source: Purchased at Indigo Spirit
Amazon • TBD • Kobo • Goodreads

Four years ago, Judith and her best friend disappeared from their small town of Roswell Station. Two years ago, only Judith returned, permanently mutilated, reviled and ignored by those who were once her friends and family. Unable to speak, Judith lives like a ghost in her own home, silently pouring out her thoughts to the boy who's owned her heart as long as she can remember—even if he doesn't know it—her childhood friend, Lucas. But when Roswell Station is attacked, long-buried secrets come to light, and Judith is forced to choose: continue to live in silence, or recover her voice, even if it means changing her world, and the lives around her, forever. This startlingly original novel will shock and disturb you; it will fill you with Judith's passion and longing; and its mysteries will keep you feverishly turning the pages until the very last.


I was really excited to read All the Truth that's In Me. I'd read a lot of amazing reviews from trusted bloggers and the cover was PHENOMENAL. Obviously that doesn't play a part in it being fantastic, but it added another quality that made me need to own this one immediately!
One thing that surprised me the most as soon as I started reading it was that there was no set timeframe. I have no idea when this book took place, just that it was a long, long time ago and it's definitely historical fiction. It was shocking to me because for some reason, I thought it was a contemporary. Another thing that stood out to me was the writing style. It's written in the form of letters, by Judith, to the boy she loves, Lucas. I did not like the writing style. I didn't find it appealing what so ever and for me, it made the story disjointed and hard to read. Now, while I did not like the writing style, I can see why others did. It's unique and played a huge part in the story.
The hardest part I had about All the Truth That's In Me was the terrible way that everyone treated Judith. They treated her terribly, like she was sub-human because she couldn't speak. Her mother was horrific, and I couldn't believe, or stomach that she wouldn't allow Judith to express herself out of embarrassment. The entire situation just didn't sit well with me. The shining star for the story, in my opinion, was Judith and Maria's friendship. It was the only element I liked out of the entire book.
I just think I had a hard time with this book because I was expecting so much. I was not wowed, I found the story strange and it definitely didn't surprise me. I knew what was coming before it happened, and the ending didn't take me by surprise.
This book was not for me… at all.