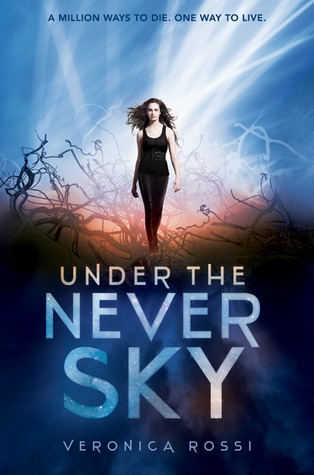 Pages: 389
Published: January 3rd 2012 by HarperCollins
# in Series: #1 in Under the Never Sky series
Source: Purchased on Amazon Kindle
Summary from Goodreads:

"Aria is a teenager in the enclosed city of Reverie. Like all Dwellers, she spends her time with friends in virtual environments, called Realms, accessed through an eyepiece called a Smarteye. Aria enjoys the Realms and the easy life in Reverie. When she is forced out of the pod for a crime she did not commit, she believes her death is imminent. The outside world is known as The Death Shop, with danger in every direction.

As an Outsider, Perry has always known hunger, vicious predators, and violent energy storms from the swirling electrified atmosphere called the Aether. A bit of an outcast even among his hunting tribe, Perry withstands these daily tests with his exceptional abilities, as he is gifted with powerful senses that enable him to scent danger, food and even human emotions.

They come together reluctantly, for Aria must depend on Perry, whom she considers abarbarian, to help her get back to Reverie, while Perry needs Aria to help unravel the mystery of his beloved nephew's abduction by the Dwellers. Together they embark on a journey challenged as much by their prejudices as by encounters with cannibals and wolves. But to their surprise, Aria and Perry forge an unlikely love – one that will forever change the fate of all who live UNDER THE NEVER SKY"
My Thoughts & Review:
Under the Never Sky takes place wayyyy in the future(from what I understand anyway, lol) where there is two places to live: In the pods, where everything is perfect and you can go anywhere you want to via Realms or in the The Death Shop, the "real" world outside where you have to deal with depleting food supplies, tribal wars and Aether storms. Aria is a dweller(someone who lives in the pods) and one night her and her friends cause quite a bit of trouble and ends up being cast out into The Death Shop. Once on the outside she encounters Perry, a born Outsider and the two realize they need each other more than they want to admit.
Under the Never Sky was such a different read for me.  As I said in the past(and it's probably obvious from my reviews) I don't read much Science Fiction. I have been dabbling though and I do read dystopian so I thought I'd give it a try. I really enjoyed it even though it was so much different from past books I've read.
I had a love/hate relationship with Aria. At times I thought she was awesome… and other times I wanted to smack her for being so annoying and silly. I think you were supposed to feel that though depending on the situation, lol. Perry… I liked immediately. I loved his stubborn attitude and I liked how vulnerable he felt around Aria sometimes. My favorite character had to be Roar though, god I loved Roar. He seems so … sexy? lol. I loved how accepting he was of Aria immediately.
There wasn't much I didn't like from this novel. I do prefer first person stories so that played a small part, however once I got used to it I didn't much notice it was in third person. I also didn't really like how the world wasn't explained very much.  I would have liked to know in more detail how they came to be living in "pods" and the "outside" and more about the Aether storms because those really confused me. Other than that, it was a very enjoyable read and very easy to read story.
I am absolutely looking forward to Through the Ever Night and I can't wait to see what Veronica Rossi is up to for the sequel 🙂
My Rating:

Happy Reading!