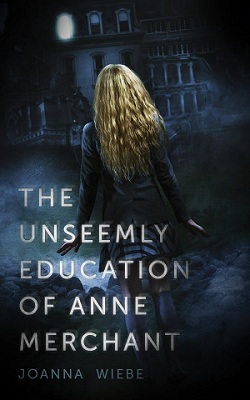 The Unseemly Education of Anne Merchant by Joanna Wiebe
Series: The V Trilogy #1
Published by BenBella Books on January 14th 2014
Pages: 272
Source: Smart Pop Books
Add on Goodreads
Amazon•Kobo•TBD
My Rating:

So many secrets for such a small island. From the moment Anne Merchant arrives at Cania Christy, a boarding school for the world's wealthiest teens, the hushed truths of this strange, unfamiliar land begin calling to her—sometimes as lulling drumbeats in the night, sometimes as piercing shrieks.

One by one, unanswered questions rise. No one will tell her why a line is painted across the island or why she is forbidden to cross it. Her every move—even her performance at the school dance—is graded as part of a competition to become valedictorian, a title that brings rewards no one will talk about. And Anne discovers that the parents of her peers surrender million-dollar possessions to enroll their kids in Cania Christy, leaving her to wonder what her lowly funeral director father could have paid to get her in… and why.

As a beautiful senior struggles to help Anne make sense of this cloak-and-dagger world without breaking the rules that bind him, she must summon the courage to face the impossible truth—and change it—before she and everyone she loves is destroyed by it.


I hadn't heard a lot about this when I added it to my TBR, but often those are some of my favorite reads. A boarding school, tons of questions and a creep factor… I was sold by the synopsis and couldn't wait to dive into it!
I liked Anne almost immediately. There was something about her that I was just instantly drawn to. She has a no-nonsense type of personality, and if she thought a rule was worth breaking, or didn't believe what she was told she had no problem doing what she wanted. The other characters were just sort of "meh" for me, although I did really like Molly. I thought she was really interesting, although I wish we could have seen more of her. Pilot was sketchy to me from the beginning, I didn't really see the appeal in Ben (although I did really like him during the second half of the novel) and the other students and weird teachers I disliked too much to care about them. That being said, The Unseemly Education of Anne Merchant(phew… what a mouthful!) is by far a plot-driven novel, not character driven, so even if you don't enjoy the characters/relate to them you can still get very invested in the plot.
From the get go you realize that there are a lot of strange happenings at Cania Christy. The rituals they have are very strange, and you are often like "WTF" while reading it. But that's a good thing here. The twists and turns, that this book takes, are crazy. I thought I had it all figured out, and I definitely didn't. That says a lot because I'm almost never shocked by a twist lately, and I was thoroughly stunned at some of the events. There were a few things I figured out beforehand but for the most part I was on the edge of my seat, waiting to see what was coming next. I found the pacing to be very well done, and while I wanted it to hurry up, it was for the sole fact that I needed answers!!
This is Joanna Wiebe's debut novel, and she definitely has me hooked for the rest of the series! I can't wait to see what happens in the second book.
I definitely recommend this one!