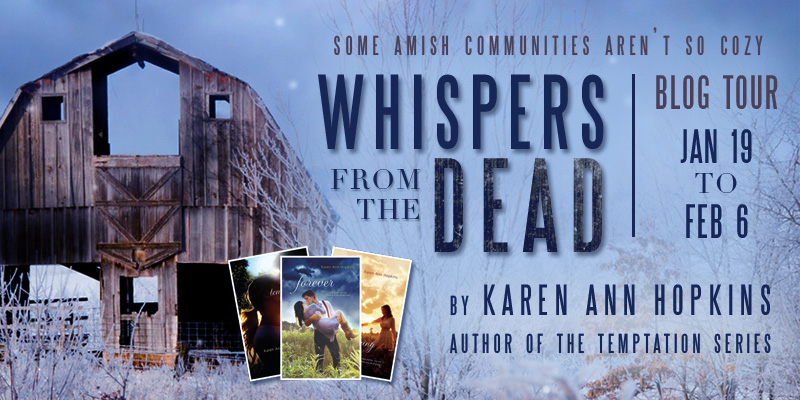 *Hosted by Kismet Book Tours*
*Follow along with the rest of the tour here!*
I'm thrilled to be a part of the Whispers from the Dead tour! I have so much to say about this book so please read on and be sure to enter the amazing giveaway as well!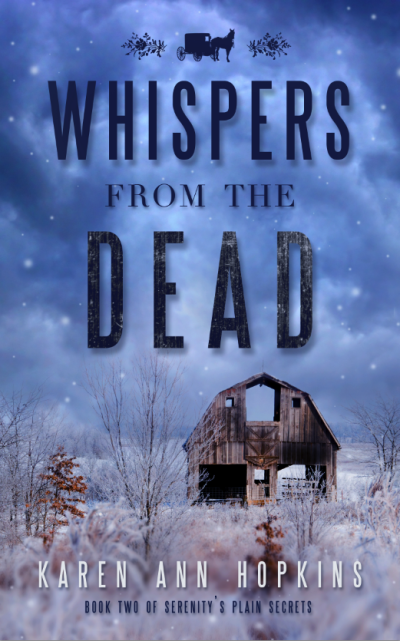 Whispers from the Dead by Karen Ann Hopkins
on January 06th 2015
Pages: 277
Source: From Author
Add on Goodreads
Amazon•TBD
My Rating:

Whispers From The Dead is the powerful and thrilling sequel to Lamb to the Slaughter, in the Amish mystery series, Serenity's Plain Secrets.

Sheriff Serenity Adams and Daniel Bachman are once again partnered up in a criminal investigation, when they travel to a northern Amish settlement that has been riddled by arsons for the past two decades. Serenity quickly discovers that there is much more going on than just barns being set on fire in the touristy community, and that the new group of Amish has their own secrets to hide. She begins to unravel an extensive criminal underworld that threatens to destroy everything that the simple people of Poplar Springs hold dear and once again puts her own life in jeopardy.

And even though Serenity tries desperately to avoid it, things begin heating up between her and Daniel, making her wonder if true love and happiness are really within her grasp.


If you follow my reviews, I'm sure you've heard about my love for Karen Ann Hopkin's books especially her Amish mystery series, Serenity's Plain Secrets. I read Lamb to the Slaughter last spring and it wowed me, it was definitely one of my favorite reads of 2014. I was so excited when I finished that book and found out it was being turned into a series so needless to say I was dying to get my hands on the second book!
As soon as I started Whispers from the Dead I was immediately pulled back into Serenity's life. It was like no time had passed, and I was so excited to see what would transpire with the new mystery that was taking Serenity out of town to Poplar Springs and REALLY interested to see what happened between her and Daniel.
I loved the fact that the characters featured in Whispers from the Dead were much more endearing and easy to love than the ones in Lamb to the Slaughter. Poplar Springs follows a different Ordnung than Blood Rock, so it's slightly less strict. Although the characters are still secretive, which I have grown to expect in Amish fiction, they seemed more willing to accept an outside Englisher to their settlement and I quickly warmed up to most of the characters. Especially the children… I wanted to just squeeze them!
One of my favorite things about this series is that there are no lulls in the story. The books aren't really long or dense, but there is SO much that happens in the pages. There is never a moment in Whisper from the Dead that I thought, "Let's get on with it" like I often do in mystery/thrillers and I love that fact. I read this in two sittings only, and that's only because I had to work in the middle! If I could have, I would have read it in one fell swoop because it's that type of story that you can't put down.
Whispers from the Dead is definitely the same action packed plot that I grew to love in Lamb to the Slaughter. There is so much happening, so much I didn't expect, and so much emotion. The ending was phenomenal, bittersweet, but I was wholly satisfied with how the events transpired. And if I thought I was excited about this book, I am even more excited for the third book!
If you haven't started this series, I highly recommend it. Amish fiction isn't a genre that I thought I would ever enjoy, but Karen Ann Hopkins provides a realistic perspective, and her mysteries are unique and thrilling. This is definitely a series you don't want to pass by!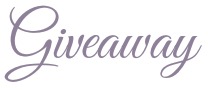 *If Rafflecoptor does not load, please refresh the page or click on the link*
*Open Internationally*