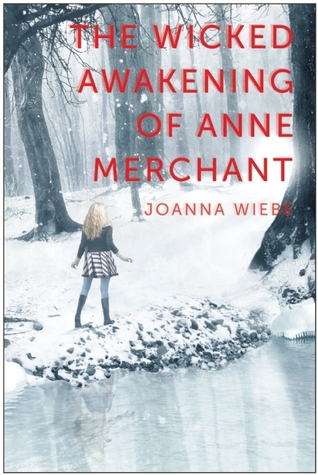 The Wicked Awakening of Anne Merchant by Joanna Wiebe
Series: The V Trilogy #2
Published by BenBella Books on January 20th 2015
Pages: 320
Source: BenBella Books via Netgalley
Add on Goodreads
Amazon•Kobo•TBD
My Rating:

Life and death, light and dark, spirit and flesh-on Wormwood Island, the lines are always blurred. For Anne Merchant, who has been thrust back into this eerily secretive world, crossing the line seems inevitable, inescapable, destined.

Now, as Ben finds himself battling for the Big V and Teddy reveals the celestial plan in which Anne is entwined, Anne must choose: embrace her darkly powerful connection to a woman known as Lilith and, in doing so, save the boy she loves...or follow a safer path that is sure to lead to Ben's destruction at the hands of dark leaders. Hoping the ends will justify the means, Anne starts down the slippery slope into the underworld, intent on exploring the dark to find the light. But as the lure of Lilith proves powerfully strong, will Anne save others-only to lose herself?


The Unseemly Education of Anne Merchant was one of my favorite series starters of 2014. I thought it was a fantastic debut and definitely one of those books that I wish had gotten more hype. It ended on SUCH a cliffhanger that I couldn't wait to get my hands on the second book.
The Wicked Awakening of Anne Merchant starts off exactly where the first book left off, which thrilled me. I find sometimes in second books, there is a gap in the story telling so it leads to a less fluid reading experience if you were to read them back to back. That, thankfully, was not the case here. I was immediately thrust back into the chaos at Wormwood Island, and that's exactly the way to describe it… chaos, because that's what happened when Anne started that ball rolling.
I do have to say that the romance between Anne and Ben didn't make me swoon as much as I wished it would have. I just don't really care one way or another if they end up together. For me this story is about Anne… it's so plot based on her individual story, and how she is involved in this whole dark mess that is Wormwood Island that Ben is the least of my worries. And speaking of Anne, I loved her even more than the first book. We see a lot of character development from Anne this time around, both good and bad, and I'm really interested to see how she continues to grow and change.
There was quite a lot happening in the first few chapters, and I was thrilled however there was definitely a lull for me for about the second quarter of the book. I felt like we were rehashing a lot of the same things, and I was starting to grow weary that it wouldn't thrill me like the first book did. That changed rapidly when I reached the halfway mark. I could NOT put it down, and I read the last half in one chunk. I refused to stop reading until I seen what was happening.
The last half of the book was filled with twists, turns, and surprises and although I guessed where one part of the story was going I did NOT expect what happened in the end. Again, you are left with a huge cliffhanger and I can't even explain how much I am anticipating this final book in the series.
If you haven't read this series yet, I highly, highly recommend it. It's wonderfully written, unique and keeps you guessing throughout the entire story!