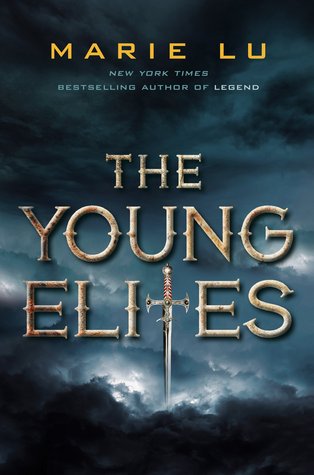 The Young Elites by Marie Lu
Series: The Young Elites #1
Published by Penguin on October 07th 2014
Pages: 368
Source: Borrowed from the Library
Add on Goodreads
Amazon•Kobo•TBD
My Rating:

I am tired of being used, hurt, and cast aside.

Adelina Amouteru is a survivor of the blood fever. A decade ago, the deadly illness swept through her nation. Most of the infected perished, while many of the children who survived were left with strange markings. Adelina's black hair turned silver, her lashes went pale, and now she has only a jagged scar where her left eye once was. Her cruel father believes she is a malfetto, an abomination, ruining their family's good name and standing in the way of their fortune. But some of the fever's survivors are rumored to possess more than just scars—they are believed to have mysterious and powerful gifts, and though their identities remain secret, they have come to be called the Young Elites.

Teren Santoro works for the king. As Leader of the Inquisition Axis, it is his job to seek out the Young Elites, to destroy them before they destroy the nation. He believes the Young Elites to be dangerous and vengeful, but it's Teren who may possess the darkest secret of all.

Enzo Valenciano is a member of the Dagger Society. This secret sect of Young Elites seeks out others like them before the Inquisition Axis can. But when the Daggers find Adelina, they discover someone with powers like they've never seen.

Adelina wants to believe Enzo is on her side, and that Teren is the true enemy. But the lives of these three will collide in unexpected ways, as each fights a very different and personal battle. But of one thing they are all certain: Adelina has abilities that shouldn't belong in this world. A vengeful blackness in her heart. And a desire to destroy all who dare to cross her.

It is my turn to use. My turn to hurt.


When I first seen The Young Elites on Goodreads, it didn't peak my interest at all. Then, shortly before it's release I read The Assassin's Blade by Sarah J. Maas and realized that I wanted to read ALL THE FANTASY and suddenly, I couldn't wait to get my grabby hands on this one and dive in.
Adelina is awesome, she really grew on me throughout the book. She did have negative qualities, seeing how she is very dark and has this underlying rage, but it all spawns from her terrible childhood and you cannot help but love her. Enzo was hot. No pun intended 😛 I quite enjoyed him and even though he came off as such a hardass he had a soft interior. The other Elites I was quite fond of as well, for the most part. And Adelina's sister… ooh, I loved her too! I actually thought the characters were great, and quite fleshed out with there being so many of them, and only getting a bit of time with each one. Adelina's character building was also prominent throughout the story which plays a huge part in my overall likeness factor, especially in a story such as this.
The plot was awesome. It was fast paced and kept me engaged and interested the entire time. I was shocked at several points throughout the story, and there were quite a few emotional punches which are another factor that makes me fall in love with a story. The worldbuilding was great, I didn't feel confused (which can happen with fantasy for me) and I felt like I knew this world and could picture it while reading the story. And the powers of the Elites… fantastic. I love magical elements and this didn't fail me in that area.
And, Oh. My. God. The ending nearly killed me. I cried so freaking hard I had to take my glasses off, which is the ultimate kind of Lauren cry 😛 My heart seriously HURT after that ending. I can't even write this without feeling like I'm going to cry honestly. I was just so SAD for Adelina. When she talks about how she is the one that nobody wants… spare me. It's heartbreaking. And then, well, you know. The other part that happened… tears folks expect tears.
Despite the sadness, I LOVED this book wholeheartedly! I am 100% invested in this series, and I cannot wait to read The Rose Society. The epilogue (which can be totally hit or miss in my opinion) just completely prepares you for the next book, and I am so excited to see more of these new characters!
The Young Elites is a phenomenal start to a series. Great characters, fast-paced plot, interesting world and MAGIC! Highly, highly recommended.