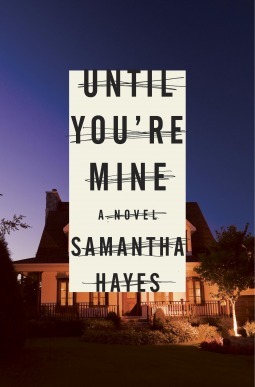 Pages: 368
Published: April 15th 2014 by Crown 
Series: N/A – Stand Alone
Source: Random House via Blogging for Books (Edelweiss)
Amazon • TBD • Kobo • Goodreads

You have something that someone else wants.
At any cost …

Claudia seems to have the perfect life.

She's heavily pregnant with a much-wanted baby, she has a loving husband, and a beautiful home.

And then Zoe steps into her life. Zoe has come to help Claudia when her baby arrives.

But there's something about Zoe that Claudia doesn't like. Or trust.

And when she finds Zoe in her bedroom, Claudia's anxiety turns to real fear…


When Cass told me about this one, and then featured it on her blog with her post on unreliable narrators, I knew I had to read this. Unreliable narrators are probably my weak spot, if I hear wind that a book features one, I need it! I just love being tricked and shocked and I was hoping this was also going to happen with Until You're Mine.
Until You're Mine has alternating points of view: Zoe and Claudia and it really, really plays a huge part in the story. It wouldn't have been the same story without the alternating points of view, it really gives you the perfect insight into each character. Zoe comes off as untrustworthy and strange, and I really didn't know what to think about her the entire book. Claudia, I immediately liked however and I almost looked forward to her chapters more than Zoe's.
As soon as I finished Until You're Mine, I knew this was going to be a drastically hard review to write. I almost cannot say anything because it might give something away, and this is definitely a story you don't want ruined because the ending is definitely… Huh?!
The main plot point of this book is that there is a murderer who is killing pregnant woman, seemingly to get to their babies. That sets an entirely unsettling tone to the book, and the entire book you are prepared for something dark and ghastly to happen to the main characters. I was literally on the edge of my seat the entire book because I thought I knew what was coming, and waiting for it to unfold!
I figured out where the story was going around the same time some major clues were given towards the end of the book, but I don't think you were meant to be blind to those clues because it definitely did not take away from the story for me. And then the ending was a total shift for me, and I didn't see any of that coming, I was shocked by some of the revelations!
Samantha Hayes is an amazing thriller writer, she did an absolute perfect job building up the suspense and foreboding tone to this novel and then slapped you with a bomb at the end! I will definitely be reading more of her books, and I highly recommend this to anyone that likes a good mystery/thriller and especially if you love unreliable narrators!