Top Ten Tuesday is  a weekly meme created by The Broke and the Bookish.

Well… finding bookish things that I'd like to own was not the problem, narrowing it down was! I have entire boards on Pinterest just for bookish things and I often spend hours combing through Etsy looking for bookish items! Someday maybe I will stop looking and actually purchase some of these things 😛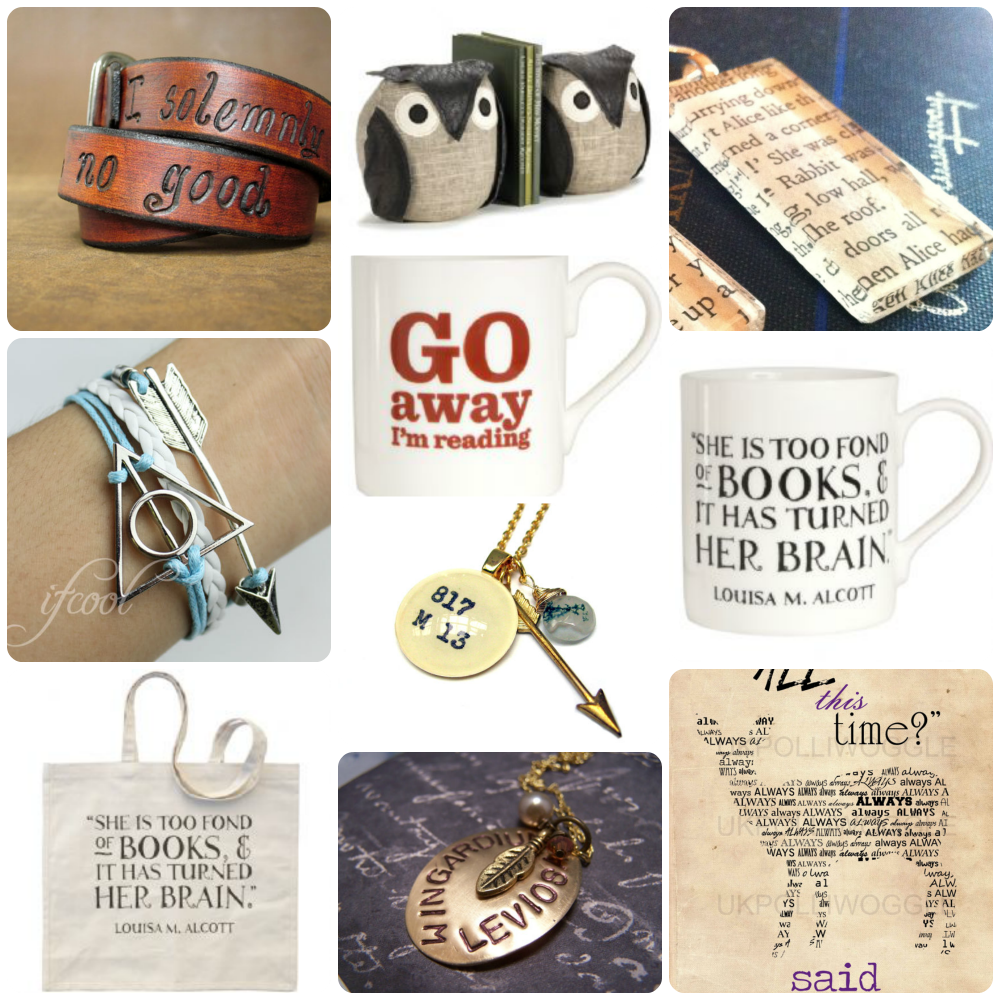 1. "I Solemnly Swear" Wrap Bracelet
*I love wrap bracelets so this one instantly caught my eye! And my second favorite quote from HP 🙂
2. Owl Bookends
*I adored owls and I have been on the hunt for some nice bookends for our new condo, these might just be a pair I order!
3. Book page necklace
*I LOVE stuff that uses book pages and this has an Alice in Wonderland quote!
4. Deathly Hallows Bracelet
*Another bracelet that I love a lot are charm bracelets and bracelets that are all one but look like several different ones. I love layering up different bracelets but this one does the work for you! (And It's Harry 😉 )
5. "Go Away, I'm Reading" Mug
*Another item that I have been slowly collecting for our new place is fun mugs so this one is perfect for me. 
6. Dewey Decimal Necklace
*I love all things Dewey Decimal and this one can be customized!
7. Louisa M. Alcott Mug
*Same as #5, and I am insanely in love with this quote!
8. Louisa M. Alcott tote
*Basically same as above 🙂
9. Wingardium Leviosa necklace
*If it's Harry Potter, I will love it but I also love necklaces that have several different charms on them. 
10. "Always" wall art
*This is hands down my favorite thing on the list. I adore this quote and I love how Always is printed to make the stag. Gorgeous!
What are your picks? I have a feeling I am going to be adding a lot of things to my shopping things this week 😉