Top Ten Tuesday is  a weekly meme created by The Broke and the Bookish.

Well, well, well… if this isn't the most fitting topic for me I don't know what is! I am CONSTANTLY shelving new series on Goodreads/buying new series (and not reading them). I LOVEEEE series, the problem is there are too many of them and I have no idea how to organize my reading 😛
I have somehow, SOMEHOW, narrowed this down to the very TOP (as of right now at least) series that I want to start…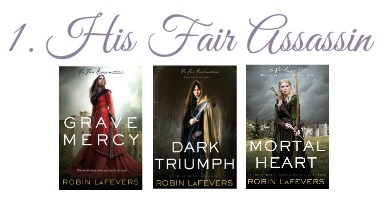 His Fair Assassin series by Robin LaFevers
This series just sounds amazing!! Assassin nuns, historical fiction?! I meant to get to this a long time ago but for some reason I still haven't picked it up yet! It could be the daunting size of Grave Mercy, but really… that's no excuse!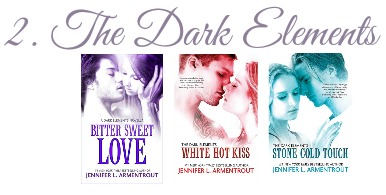 The Dark Elements series by Jennifer L. Armentrout
This is exactly my type of read: paranormal, gargoyles, romance! Jennifer L. Armentrout is probably one of my top need-to-read-authors. I have so many of her books and have only read ONE! The shame in it all…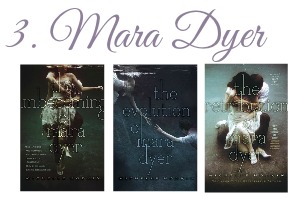 Mara Dyer series by Michelle Hodkin
I've had the first two books in this series forever, FOREVER! The real reason why I haven't started is because when I first found about it, the third book kept getting pushed back and pushed back so I didn't want to start it and be anxiously waiting for the end. Now that the third book is set to come out, I think I'm reading to take the plunge! I've heard it's really effed up… exactly my type of read!


Bloodlines series by Richelle Mead
Ok, the real reason why I haven't started this is pretty silly. I bought The Golden Lily because it was on sale at the book store, but I didn't own Bloodlines. The problem is, Bloodlines is only in paperback at the bookstore and now I own The Golden Lily in hardback. And I have just been to damn lazy to order the rest of the series in hardback honestly. I have no other reason *shrugs*. I really loved Vampire Academy, so it's actually surprising that I have really waited this long to read it!


Daughter of Smoke & Bone series by Laini Taylor
These are seriously HUGE books! Much like Grave Mercy, that is probably the main reason why I have set this series aside. I started the audiobook a bazillion years ago, but I wasn't fond of the narrator so I picked up the book when it was on sale. The problem is, I haven't actually started reading it again :/


Percy Jackson and the Olympians series by Rick Riordan
*hides* I KNOW! I have zero idea how I haven't read this by now… it's a mystery to me as well. I was almost too embarassed to put this on the list 😛 It will happen though friends!!


The White Rabbit Chronicles series by Gena Showalter
I've heard nothing but amazing things about this series, and specifically Cole Holland so it has to happen… I need to start this one soon!


The Courier's Daughter Trilogy by C.J. Redwine
Well first of all, the covers of this series are amazing. Just beautiful… I could stare at them all day. Anyway… I added this to my TBR during my fantasy obsession (which I'm still in) and I really want to read this! I've heard fabulous things about it.


Mythos Academy series by Jennifer Estep
Boarding School and mythology? Yes please! I actually forgot that I had the first book in this series because I purchased it on a Kobo deal, and I never ever use my Kobo app. I was browsing it the other day and there it was! YES! I think I might start this series soon because I've been looking for something fun to read, and this seems like it would fit the bill.


Covenant series by Jennifer L. Armentrout
Yet another JLA series that I need to start and also another mythology series. This really seems like an awesome fall read for me, so hopefully I will get to this soon!!