Top Ten Tuesday is  a weekly meme created by The Broke and the Bookish.
Ten Books I'd Love to Read If I Had A Book Club
I don't have a book club, and I'm not sure if I ever will be a part of one because I'm very shy at first, but I do like the thought of them. This was actually a very hard topic for me to think of books for though … I finally settled on mostly books that have been heard to have twisty endings (or the synopsis alludes to that anyways) because I think those would be fun to discuss in a group setting. I also picked a few rereads that I would have loved to discuss with someone reading at the same time!


1. Fall On Your Knees by Ann-Marie MacDonald • I loved this one the first time I read this so long ago. I'm well due for a reread for it, and I think reading it in a book club would be perfect. There are a lot of themes in the book that are very… dark, and it would be a great book for group discussion, in my opinion. 
2. Dear Daughter by Elizabeth Little • This is a newer read for me, but one I sure wish I had of read with others. It was intriguing and definitely did not end up how I expected!
3. Until You're Mine by Samantha Hayes • The ending for this was wild. It was definitely far out, and the things that happened in this book were unimaginable. Definitely a book that would have some great discussion because of the WTF factor that takes place throughout.
4. Lies You Wanted to Hear by James Whitfield Thomas • I think Lies You Wanted to Hear is the perfect discussion book. A lot of stuff happens that makes your heart hurt, but it poses a lot of, would you have done the same thing? type questions.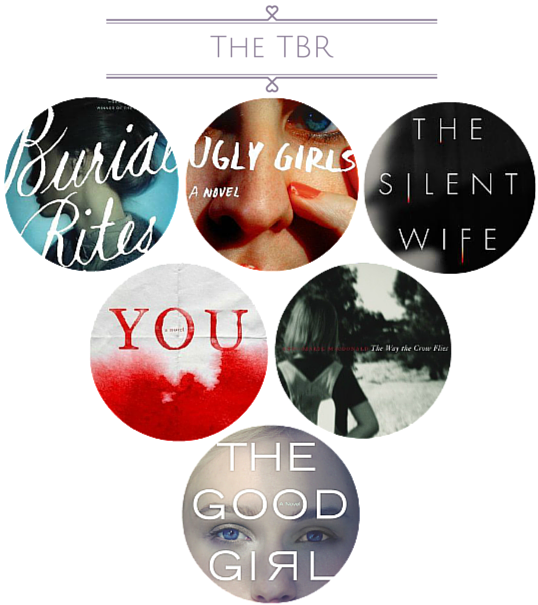 5. Burial Rites by Hannah Kent • I know this was a much talked about book the last year (ish?) but it never really interested me, and I have no idea why. One day I was browsing the book lists that come out in abundance at the end of the year and I was like, UM WHY DO I NOT HAVE THIS ON MY TBR?! It sounds fabulous, and a book I think that would be nice to discuss perhaps?
6. Ugly Girls by Lindsay Hunter • Sounds twisty and what not, and those always seem like good reads for a group because you can share your suspicions with each other. 
7. The Silent Wife by A.S.A. Harrison • Basically same as above… and I think it would pose some great discussion!
8. You by Caroline Kepnes • This definitely sounds like one that you would want to talk about while you read it! I know it's a bit extreme at times and books like that always leave for a good discussion and lots of opinions. 
9. The Way The Crow Flies by Ann-Marie MacDonald • I based this one off of nothing except the fact that I know Fall on Your Knees would be a great book club read 😛 Ann-Marie MacDonald FTW!
10. The Good Girl by Mary Kubica • Another potential twist ending or something wonky going on!
 So there you have it! Those are my book club picks! Have you read any of these? Do you think they would be good book club picks? What did you choose? Link up!