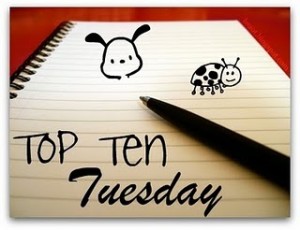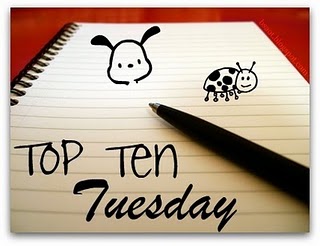 Top Ten Tuesday is  a weekly meme created by The Broke and the Bookish.
Top Ten "Older" Books You Don't Want People To Forget About
 1. My Sister's Keeper by Jodi Picoult – This book was amazing. I'm not a huge fan of Jodi Picoult's books just because I am depressed after I finish reading them but I absolutely loved this book. The story of these two sister's is incredible.
2. Sarah's Key by Tatiana de Rosnay – Another incredible book. I have read the author's books that were published after this one and this wins over by a long shot. Amazing.
3. Confessions of a Shopaholic series – Gahhhh… I love this series. I used to be a huge fan of chick lit(now not so much because YA has won me over) and this was the series that started it all. My copy of the first book is so tattered and loved I'm not sure if it's even still readable 😛
4. Bridge to Terabithia by Katherine Paterson – I read this umm… (gasp) 16 years ago I think? And I still remember the story perfectly. This was one of the rare books I actually enjoyed that was a school read.
5. Paradise by Judith McNaught – Oh my gosh, I read this book years ago. I borrowed it from the library on a whim in high school and I loved it. I'm not a big fan of romance genre books but I love(and still love) this one!
6. Rosato & Associates series by Lisa Scottoline – There are a bazillion books in this series and they are sooooo good. Crime, girl power(BAH!).. and they are immensely easy to read.
7. Fall on Your Knees by Ann Marie MacDonald – Ok, maybe I am biased about this one because it takes place relatively close to where I grew up but it is SO good. It is the strangest story I have ever read(with a lot of taboo subjects) but it is an amazing story as well!
8. White Oleander by Janet Fitch – I'm always trying to fit this book into every category 😛 I love it!
9.  Charlie St. Cloud by Ben Sherwood – Ghosts, YA, tears… what more could I ask for ? lol
10. The Time Traveler's Wife by Audrey Niffenegger – Just a lovely love story. <3
That's all for this weeks Top Ten! It's such a random list, a little bit of everything mixed in! What did you guys add to your lists this week?
Don't forget to check out the giveaway & cover reveal of Jenny Plague-Bringer! The giveaway is open until October 13th 2012 🙂
Happy Reading
xo Lauren