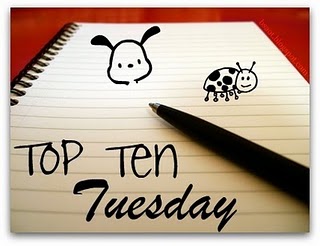 Hey Everyone! So it's Tuesday again and before I get started on the top ten I just have to say that I just finished A Need So Beautiful by Suzanne Young and I have to admit I was weeping. Like seriously bawling, tear-stained pages, ugly cry, the whole nine yards. I have not cried that hard during a book since Delirium. Wow. It was amazinnggggg, and now I'm dying to read A Want So Wicked. A review will be coming shortly.
Now… on to the top ten.  Top Ten Tuesday is a weekly meme hosted by The Broke and the Bookish where you post your "top ten" for the weekly topic!
Top Ten Most Vivid Words/Settings in books:
1. The Maze Runner Trilogy: Ok this includes all three books (The Maze Runner, The Scorch Trials & The Death Cure).  I thought the world building was amazing in this trilogy, I could vividly imagine exactly where Thomas, Teresa and the gladers were in every different setting, even right down to the very last scene.
2. Delirium Series: I loved the world depicted in this series. It was so vivid, especially in the "wilds".  I can just picture the vacant stares in every ones eyes.
3. The Hunger Games:  Ooohhh the districts. The Capital.  The strangest thing about the Hunger Games is that when I seen the movie, everything was how I pictured it, and that never happens. The arena… everything was described so well, and sooo vivid.
4. Divergent Series: Seeing a common link? Obviously I love dystopian, haha. I loved the factions and how they are described.  I also loved how realistic the Dauntless compound was made.
5. The Host: Oh Jeez… I have read this sooooo long ago, but I still remember that cave.
6. Harry Potter: Everything about Harry Potter. The entire world <3
And… I couldn't get to ten.  I've only just started reading YA within the last several months, prior to that it was just really, really common series(Twilight, Harry Potter, Hunger Games.. and the Host) so I'm looking forward to seeing what other lovely worlds are out there 🙂
Happy Reading
xo Lauren