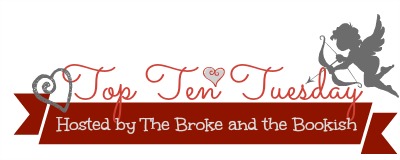 Top Ten Tuesday is  a weekly meme created by The Broke and the Bookish.
Top Ten Bookish Memories
Honestly… I could ramble on forever with bookish memories. Everything excites me, even the smallest things. I also had so much fun reflecting for this top ten and trying to narrow down what should be listed in the top ten 🙂 I hope you enjoy and I can't wait to read everyone else's memories! And this are not in order from best to "worst"… I love them all equally!
1. Meeting Lesley Livingston & Kelley Armstrong: These two lovely ladies were the first authors(and to date, only authors) I have met in person. I was so beyond nervous(because you know… authors are celebrities :D) that when I walked up to meet Lesley Livingston I was shaking… full on hand trembling and I didn't even know what to say. At one point there was also tears in my eyes, haha. I am an introvert by nature(I force myself to be an extrovert at work and as soon as the day is done, back into my shell I go) so I often stutter, hyperventilate and have a variety of other strange reactions when I meet people. After about 2 or 3 minutes that quickly passed because Lesley Livingston is one of the most genuinely nice, friendly people I have met in my life(including non bookish people, lol). I wanted a picture with her so I asked my boyfriend to take one while she was signing my book, and she quickly said, "Oh you want a picture, wait till I sign these and then you can come around here!". This was at the Fan Expo so it was so busy but the fact that she took the time to have me come up and stand beside for a picture just about brought me to sob level, haha. And THEN… she gave me a huge  hug and also had my boyfriend take a picture with her phone! She was just all around amazing and plus her books are amazing! After meeting Lesley I went over to meet Kelley Armstrong who was just as equally nice. I honestly hardly said anything to her except to tell her I loved her books because she is like a freaking paranormal goddess. Both ladies were amazing and it was hands down one of my favorite experiences I had ever had. I waited in line for 4 hours in 35 degree heat just to get my fan expo ticket, and once in there I walked for hours trying to find out where the author signings were, and in those 10 minutes I spend with them it made the entire ordeal, 100% worth it!
2. Retweets from Carmen Rodrigues & Gennifer Albin:  I know this may seem silly to some, but believe me when I say I get overjoyed by things like this. I'm naming those two authors specifically because they were the first ones who ever retweeted my reviews. I've had other authors since, and I enjoyed there retweets just as much(screaming.. small amount of dancing… and then showing my poor boyfriend who tries to look so excited them 500 times) but because they were the first I put them down. I honestly screamed. Like I just broke my leg type of scream. For an author to see my review and then RETWEET it… holy smokes. That small action made my whole week… and it still does… every freaking time!
3. Receiving my first physical book from an author in the mail: I am participating in the blog tour for Phoebe and the Year of Four by Nya Jade this month. Normally for blog tours we receive ebooks but for this one the author was actually sending out physical copies to all participants. I was shaking when my boyfriend handed me the box and the entire way up in the elevator I could almost not contain my excitement. Nya Jade wrote a wonderful note inside of my copy and just those small things are so appreciated. I absolutely treasure all signed books even if I don't physically meet the author so to have another one just fills me with Joy. And not to mention the cover is freaking GORGEOUS!
4. First review request from an author: Gooood Lord. I cannot even begin to explain how much I freaked out when I got my first review request. And I mean one where it was obvious the author had read my review policy and wrote a personal email to me. I almost cried I was so excited 🙂
5. First contest won: I'm just going to put this out there that winning is not my strong point. I'm about as unlucky as a broken winner so when I won a contest on Epic Reads for a copy of Endlessly by Kiersten White I almost didn't believe it was correct 😉 Nevermind the fact that I hadn't read the first two books… oh and it was my first ARC as well!
6. First blog comment:  When I posted by my first post(which was a Stacking the Shelves) and received my first comment shortly there after you would not even BELIEVE the excitement I had radiating from my body. I didn't think I would have a comment for MONTHS(and that is the truth, but now I realize that the book blog community is so amazingly friendly) so I was just astonished.
7. First subscriber: And the same thing goes for my first subscriber. When I seen that Google Friend Connect say 1 I almost had a heart attack. And honestly, I'm still excited every time I see that subscription number go up(although I've learned to not care whether it ever goes up but I still LOVE when it does).
8. Being at home sick from school reading the Babysitters Club: This is probably going to seem like such a strange memory but one of my favorites was being home sick with such an awful head cold and being curled up in my bed, with soup reading the Babysitters Club. I was wrapped in a tone of blankets and my Dad kept coming in to check to see if I needed anything. It was such a lovely day and I finished a ton of books. I never spent my sick days watching TV… it was always reading.
9. My library at my parents house: This library feels like home to me honestly. It's such a small library but because I am from a ridiculously small town the librarians know us(and everyone you related to) extremely well. My parents never tried to restrict the amount of books I would take out… they knew if I took out 30 novels I would read them in 2 weeks. I was always the child who would spend the entire weekend reading, I loved it. We were supposed to have a book limit at the library but they quickly learned that I would be back in 2 days for me, and for my parents sanity sake, I think they just let me take out whatever I wanted. I remember leaving the library with actual bags full of books… and sometimes my mother or father would wait in the car and then actually have to come get me to drag me out. I could have lived in there, but I'm sure the time I was 14 I had read everything there was in the children/teens section and had long since started on adult mystery/thriller. And plus it smelled so freaking good in there.
10. Buying Nancy Drew books with my mother: I got hooked on Nancy Drew books but they were really hard to find in my small town. There is another town about 30 minutes away so whenever I went with my mother she would let me go into this gift type store that also sold second-hand books in the back. Every time we went I would painstakingly sort through the books for which copies I didn't have and then my mother would buy them for me. I remember I always used to try to barter with her for more but looking back she never really put up a fight(really… I wasn't asking for toys, I just wanted books, haha). I felt like a million bucks when I'd walk out of that store with a bag of 10 or 15 Nancy Drew books. I asked my mother about this recently and she informed me that most of those books cost between 50 cents to 2 dollars! Bahahaha… and I was trying to rationalize to her why I NEEDED this other one, when all along she was going to buy the thing for me. Honestly I thought she was dishing out hundreds of dollars when I left with those bags of books… it all makes sense now.
Oh my gosh… I had no idea I was going to type so much, haha. Ah well… there you have it 🙂 PLEASE post with your book memories… I love reading posts like this!
What are your picks?
Happy Reading!
xo Lauren