I am SO excited to take part in the tour for Another Little Piece of My Heart, the second book in Harlequin Teen's Digital First imprint. I absolutely adore this new imprint! Please keep reading for my review and a SUPER fun giveaway with a scavenger hunt 🙂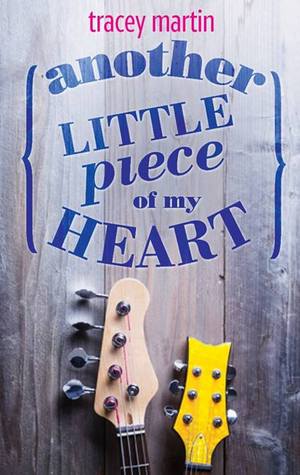 Pages: 304
Expected Publication: December 01st 2013 by Harlequin Teen 
Series: N/A – Stand Alone
Source: From publisher for review
Amazon | Nook | Kobo | iBookstore 
Goodreads | Harlequin

What if your devastating break-up became this summer's hit single? In this rock-and-roll retelling of Jane Austen's Persuasion, music can either bring you together or tear you apart.

At her dying mother's request, Claire dumps Jared, the only boy she's ever loved. Left with a broken family and a broken heart, Claire is furious when she discovers that her biggest regret became Jared's big break. While Jared is catapulted into rock-star status, another piece of Claire's heart crumbles every time his song plays on the radio.

The summer after her senior year, it's been months since the big break-up, and Claire is just trying to keep her head down and make it through a tense trip to the beach with her family. But when Jared shows up, and old feelings reignite, can Claire and Jared let go of the past? Or will they be stuck singing the same old refrain?


After reading (and loving!) the first book in the Digital First imprint, Stir Me Up, I couldn't wait to dive into Another Little Piece of My Heart and let me tell you: I was definitely not disappointed!
First off, let me start with the setting of this book! A beach on the east coast: my FAVORITE! I love beach settings, especially ones on the ocean and the small, touristy town where Claire's family vacations was perfect. I love little hole-in-the-wall bars, creaky beach houses and small town hospitality and we seen it all here!
I really liked Claire, the main character. Her love for music and how it was so much of her personality was a great trait. I thought she was really unique from a lot of female teenage characters, and I enjoyed that very much. I also adored her relationship with her best friend (who was hilarious!). I also quite liked Jared. He had to grow on me, because I couldn't get past the fact he wrote a song about his ex at first, but once his personality was revealed a bit more, I really liked him. The secondary characters were a real prominent part of this novel as well, which is something I always appreciate. As I have said a million times over, I almost always find a bigger attachment with secondary characters than main characters and while it didn't happen in Another Little Piece of My Heart, I really loved that they were such a huge part of the book.
I wasn't extremely fond of Claire's family. Granted, as the story went on I didn't mind her sister and her two cousins but her father was just horrible! He was so condescending, arrogant and negative and while I can appreciate that he wanted the best for his daughter, he went about it the entire wrong way and I couldn't get past that. I hated how he looked down upon people who were "less" than him and it was somewhat sad that his teenage daughter had a firmer grasp on reality than he did! And I really wasn't fond of the fact that Claire's parents forced her to break up with Jared with the excuse of her mother dying. I think it's horrible that a mother would want to inflict pain on her child like that, especially at a time when she would need someone to lean on! That all being said, those very things that I disliked played major parts in Claire's story and brought her to this part of her story, so I guess they weren't all that bad 😛
I loved the romance. It was slow burning, despite having been there before and I was on my toes the entire book just waiting for something to happen. It was refreshing that they didn't just jump back into their old relationship, but worked through the anger, betrayal and feelings and it was wonderful to watch unfold!
Tracey Martin's writing is beautiful. I couldn't put the book down once I started and I especially enjoyed how music was such a large part of the book.
I highly recommend picking this one up! It's a great, unique contemporary romance!




Song #6 in Claire's Summer Survival Playlist: Mumford and Sons, "Little Lion Man"
Above, you'll notice that I've linked to one song from the Another Little Piece of My Heart Claire's Summer Survival Playlist. There are 12 songs on the playlist in total, and therefore 12 stops on the scavenger hunt (posting from November 29 – December 1). Find them all, and discover 12 chances to win great Harlequin TEEN books and Another Little Piece of My Heart swag!
Also.. One grand-prize winner will be randomly drawn to receive a $25 iTunes gift card in addition to books and swag! To enter for the grand prize, send the complete, 12-song playlist, along with your contact information (including the address where you'd like to receive your prize) to the author by using this contact form: http://tracey-martin.com/contact/. The winner will be notified by email after the contest ends on December 5th.
Rules: Open internationally, anyone below the age of 18 should have a parent or guardian's permission to enter. To be eligible for the grand prize, you must submit the playlist using the contact form above by December 5th at noon Eastern Time. Entries sent without the correct playlist or without contact information will not be considered.
And there's more!!
There is also an individual blog-hosted giveaway as well!! The prize is 3 Harlequin Teen backlist titles as well as Another Little Piece of My Heart buttons & bookmarks!!
*Rules & Regulations*

Click to Open
1. Open Internationally
2. Must have parent/guardian permission if under 18.
3. Void where prohibited
4. Your information will be passed on to Harlequin Teen for the purpose of you receiving your prize
5. Winner has 48 hours to respond, otherwise new winner is chosen
6.  Lauren/Lose Time Reading is not responsible for lost, stolen, damaged or prizes not received for this giveaway
7. Giveaway runs until December 5th 2013, 1159 EST.