I enjoyed reading Freshman Forty so much I can't wait to share my tour review with you! There is also a great giveaway at the bottom so keep reading!
I also have some amazingly exciting news to share: Freshman Forty was originally self-published, but Christine just signed a deal to have it re-released by a publishing house this fall! Follow Christine on Twitter for updates @Christineduval1 or on her Goodreads author page!! Congratulations Christine that is SO exciting!!
Be sure to check out the other tour stops!
UPDATE: Freshman Forty has been rereleased as Positively Mine by Bloomsbury. My review has been reposted under the new title.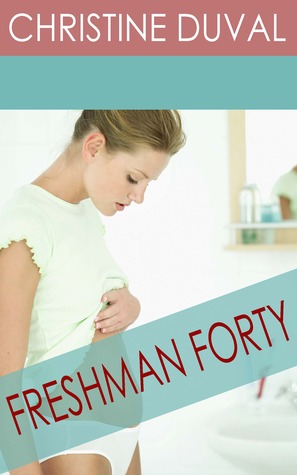 Pages: 185
Published: February 21st 2013 
Series: Freshman Forty #1
Source: From Xpresso Book Tours for review
Amazon | Goodreads

When eighteen-year-old Laurel Harris discovers she's pregnant four weeks into the start of her freshman year at prestigious Colman College, she has all intentions of telling her father. But being away at school makes it too easy to hide. And while she can't explain to her friends, or to herself even, the reasons why she doesn't want the baby's father to find out about the pregnancy, the rest of her world begins to unravel. 

Freshman year is hard enough. Most girls get through by forming close friendships, finding new boys and a phone call from mom or dad on Sunday. Laurel has to navigate all of it while hiding an unplanned pregnancy from a summer fling… 

An imperfect heroine plagued by bad choices and haunted by the memory of her deceased mother and grandparents, readers are sure to identify with Laurel as she navigates teen pregnancy, in secret, in a remote college setting.

Awards:
-Freshman Forty took won an Honorable Mention at the New York Book Festival
-Won an Honorable Mention under General Fiction for the Beach Book Festival.

When I read the synopsis for Freshman Forty it immediately struck me as something I would enjoy. It's a great mix up in the new adult genre from the usual steamy romance and built up sexual tension of freshman college students. Freshman Forty is about a college freshman who gets pregnant and then has to deal with the struggles of her choice, to tell her father and the baby's father all while keeping up her grades and dealing with her first year in college.
The main character, Laurel, was exceptional. I loved her. She was SO realistic for a college freshman. Outside of her struggles with the pregnancy situation she was dealing with her disconnect from her father, his remarrying after the death of her mother, finding her way in a new world at college, trying to keep up with the heavy courseload and experiencing the connection with a new found crush. I loved her voice and her independance. She was just so determined, even though it might have seemed that way and I LOVED her. I also really liked Mike and Amber. They were both steady rocks for Laurel, and while they both had a disappearance they were always in Laurel's corner.
This story captivated me. I didn't move the entire time I read it, I could not put it down. I loved the plot, the pacing and the entire story. Honestly, I cannot rave enough. The fact that the story itself is so different from what I've read in new adult thrilled me and Christine Duval's writing is just amazing and incredibaly easy to read. One of the things I enjoyed most was the fact this is not a romance story. Granted there is a bit of romance in it but the story is not focused on that, it's focused on Laurel's journey.
The ending was great. It ended in such a way I didn't feel starved like I do after a big cliffhanger but in a way that definitely makes you need to read the next book. I cannot wait happen's next with Laurel. I absolutely recommend this to anyone that likes realistic contemporary. It's a beautiful story. I laughed, I cried and I will definitely be purchasing this one in hard copy 🙂




*One(1) ebook copy of Freshman Forty(INT)*
*If Rafflecopter does not load please refresh or click on the link*
Happy Reading!
xo Lauren