I'm so excited to be participating in the Hexed tour! I won't say much of an introduction because it will be a repeat of my review, so please keep reading below 🙂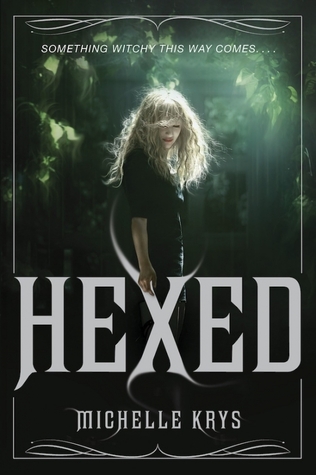 Pages: 384
Publication: June 10th 2014 by Delacorte Press 
Series: The Witch Hunter #1
Source: Random House Children's via Netgalley

If high school is all about social status, Indigo Blackwood has it made. Sure, her quirky mom owns an occult shop, and a nerd just won't stop trying to be her friend, but Indie is a popular cheerleader with a football-star boyfriend and a social circle powerful enough to ruin everyone at school. Who wouldn't want to be her?

Then a guy dies right before her eyes. And the dusty old family Bible her mom is freakishly possessive of is stolen. But it's when a frustratingly sexy stranger named Bishop enters Indie's world that she learns her destiny involves a lot more than pom-poms and parties. If she doesn't get the Bible back, every witch on the planet will die. And that's seriously bad news for Indie, because according to Bishop, she's a witch too.

Suddenly forced into a centuries-old war between witches and sorcerers, Indie's about to uncover the many dark truths about her life—and a future unlike any she ever imagined on top of the cheer pyramid.


Hexed was one of my most anticipated books of 2014 by far. I have an extraordinary love for all things witches and it seems like I just can't find enough of them so when I seen Hexed when it was first announced I knew I had to read it immediately. Imagine my excitement when I was asked to be on the tour! I was over the moon and I couldn't wait to dive into it.
Within the first few pages I knew I was going to love Michelle Krys writing style. Her writing is fun, her characters are so realistic you feel like you know them and it reads more like an actual story that you take place in rather than a story you are reading.
Immediately I liked Indigo. She got on my nerves several times, because she could have an annoying attitude, but altogether I loved her snark and sarcastic nature. Bishop is sexy. That's all I really have to say… Another bad boy that immediately had me in his clutches! As I mentioned above the character building was fantastic, despite the paranormal element, I felt these characters were realistic and very relatable. Especially the teenagers!
The plot itself was unique and well done. I loved that Indigo's mom owned Black Cat, a "magic" store… It really reminded me of a shop from at home, coincidentally also a favorite 😉
As a debut novel, Michelle Krys blew this one out of the park. It's by far one of my favorite debuts I've read this year and I will be picking up her future books without a doubt. I definitely recommend Hexed to anyone… Although it's paranormal, Michelle's fun writing style and great plot lines will suck you in from page one!