Today is my tour stop for The Sundering by Megg Jensen. This Blog Tour is hosted by
BB Book Tours
!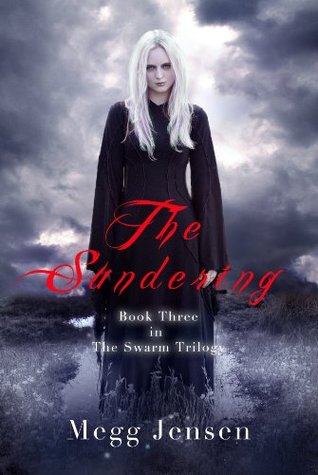 The Sundering
by
Megg Jensen
Series:
The Swarm Trilogy #3
Published by
80 Pages
on August 30th 2012
Pages:
159
Source:
From Author
Add on Goodreads
Amazon My Rating:
After defeating the Malborn and losing the person she loved most, Lianne escapes to Chase's homeland. With her appearance forever marked by death, Lianne feels like a monster both on the outside and the inside. She retreats into herself, fearful of what she's become.

But she can't hide forever.

The Malborn, damaged but not broken, send a deadly message to Lianne. They are coming for her and now she's brought danger to a peaceful land that believed they'd driven the Malborn from their shores forever. Lianne must force herself to trust again and make the ultimate sacrifice to save everyone she loves. In a world ruled by whoever harnesses the most powerful magic, no one can be trusted – no one is safe.

First things first: this cover is amazing! Absolutely stunning, as a matter of fact the entire series has beautiful covers. Once you read this one the cover will make complete sense… when I read the first two I could not understand why the third book is completely different but it all comes together 😉
In the third and final book of The Swarm Trilogy, Lianne is a completely different person. The Malborn were somewhat defeated but Lianne also lost the love of her life in the process. She is now with Chase in his homeland, struggling through depression. The calmness doesn't last for long though and Lianne is suddenly caught up with trying to come to terms with her past, the new secrets she is learning about and the boy who loves her more than himself.
I loved The Sundering! It was actually my favorite of the three. Lianne's personal struggle with Bryan's death was so emotional and raw and Megg Jensen did a great job of making you also feel Lianne's emotions. My favorite character was Chase, again. I just loved him since the beginning. He loves Lianne so much and will do absolutely anything for her. I also loved how we got to see quite a bit of Chase's family, his father was so kind and his mother harsh and cold.
The ending was very satisfying. I hate when at the end of a series it feels like a waste of time to have read three books and been disappointed: this was not the case.  All of the questions are answered and you feel complete with reading it. My only qualm is that it is over! I really enjoyed this magical series, now I'm going to have to read The Cloud Prophet trilogy to get some more of this enchanted story 🙂
If you haven't read this series yet, you've got to pick it up! It's just an easy to read series… you get tugged into the story straight away.
Find Megg Jensen on: