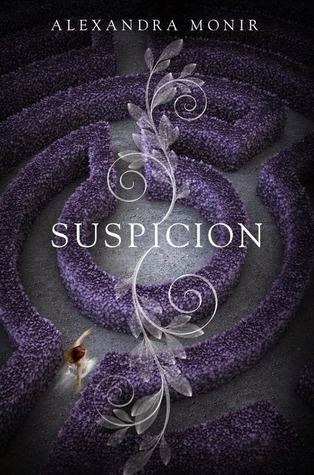 Suspicion by Alexandra Monir
Published by Delacorte Press on December 09th 2014
Pages: 368
Source: Random House Children's via Netgalley
Add on Goodreads
Amazon•TBD
My Rating:

A modern-day twist on the classic thriller, Rebecca, with a dash of the supernatural, a powerful romance, and a deadly family mystery.

"There's something hidden in the maze."

Seventeen-year-old Imogen Rockford has never forgotten the last words her father said to her, before the blazing fire that consumed him, her mother, and the gardens of her family's English country manor.

For seven years, images of her parents' death have haunted Imogen's dreams. In an effort to escape the past, she leaves Rockford Manor and moves to New York City with her new guardians. But some attachments prove impossible to shake—including her love for her handsome neighbor Sebastian Stanhope.

Then a life-altering letter arrives that forces Imogen to return to the manor in England, where she quickly learns that dark secrets lurk behind Rockford's aristocratic exterior. At their center is Imogen herself—and Sebastian, the boy she never stopped loving.

Combining spine-tingling mystery, romance, and unforgettable characters, Suspicion is an action-packed thrill ride.


Going into Suspicion, I had no idea what to expect. I hadn't read the classic, Rebecca, so I didn't know what this story contained at all – and I was so excited to go into it with no expectations!!
The characters were enjoyable to read about. Imogen, the main character, was definitely my favorite. I loved her inquisitive nature and how she refused to stop investigating what was happening. She was definitely brazen and I really appreciated that quality. The other characters didn't stand out, but they did play a great part to the story so I can't say anything negative about them.
The plot was interesting, fast paced and very enjoyable. I really was on the edge of my seat and had no idea what was coming next. I must say though that the paranormal aspect of this book was odd. It felt almost thrown into the story and didn't really play a part until the very end. It obviously was a pivotal part of the final chapters, but it felt so out-of-place leading up to that point. Really though, that's the only issue I had with Suspicion.
I flew through this book once I sat down to read it. I had initially started it, read the first chapter and then put it down for until the weekend but once I picked it back up I didn't put it down until I finished! I was soooo intrigued with what was going to happen and everything would unfold.
The ending SHOCKED me. Honestly, I had no idea the twist that unfolded in the end. Maybe it's because I hadn't read Rebecca, but I absolutely didn't see it coming at all and that really cemented it as a four star read for me. I love to be completely surprised by an ending, but it doesn't usually happen so that alone was a huge plus in my mind.
I have seen a lot of mixed reviews for Suspicion since I've read it and I'm happy I fell on the good side of that coin. I would definitely recommend this to anyone that likes a bit of a dark mystery!