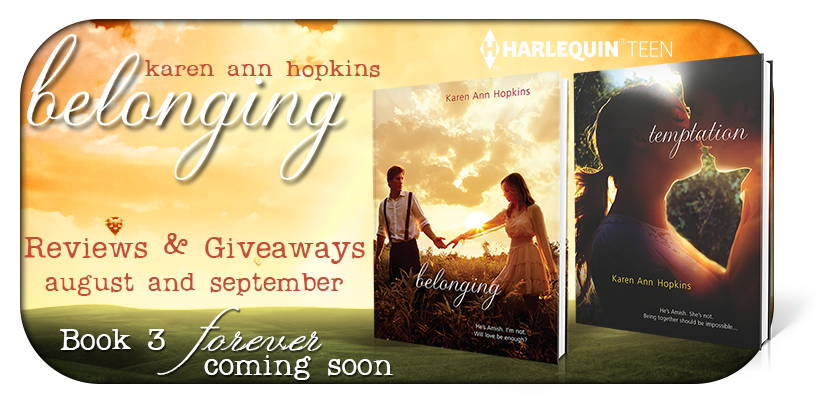 *Hosted by Kismet Book Tours*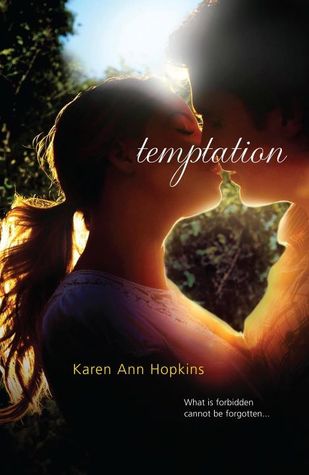 Pages: 383
Published: June 26th 2012 by Harlequin Teen 
Series: Temptation #1
Source: Received for tour review
Amazon | B&N | Facebook | Indiebound | Goodreads

Your heart misleads you.
That's what my friends and family say.  

But I love Noah. 
And he loves me.  

We met and fell in love in the sleepy farming community of Meadowview, while we rode our horses together through the grassy fields and in those moments in each other's arms. 

It should be  

ROSE & NOAH  

forever, easy. 

But it won't be. 

Because he's Amish. 
And I'm not.

I was really excited to participate in the tour for Temptation; I am really on a contemporary kick this summer with my reading and it sounded so unique from everything I've read in the genre.
I absolutely loved the characters in Temptation. Rose, the main character was so real and refreshing. I loved her no nonsense attitude with her brother, her ability to speak her mind and act on her own accord and her loyalty to Noah. Speaking of Noah, talk about swoonworthy. He was so different from the bad boys that normally have me head over heels for them but I adored him. Although I didn't agree with a lot of his opinions when it came to Rose and how woman should act, his complete love for Rose won me over. Plus how can you resist a sexy boy in suspenders 😉 I also adored Rose's brothers. They were hilarious, overbearing, jerks but the three siblings had so much love for each other you couldn't help to love them. All in all the character development was fantastic, I was entirely invested in all of the characters and their stories.
The story itself, like I said above, was so unique to anything I've read. Learning about the Amish culture and way of life was fascinating to me. Karen Ann Hopkins clearly wanted to ensure that the Amish were shown realistically and it shows. I loved having a peek into the forbidden thoughts of Noah and his families reactions.
Temptation was sweet, romantic, and at times incredibly heartwrenching. I really felt for Rose and Noah. The instant connection they had and sheer determination to be together against all odds was lovely.
The ending had me dying to pick up the next book immediately because I can not wait to see what happens. No spoilers but it's a great ending for the first book and opens it up for a great start on Belonging.
If you love contemporaries and want something different in the genre I wholeheartedly recommend Temptation. It's a great start to a beautiful journey.





*Open to US/Can*
*If Rafflecopter does not load, please refresh the page or click on the link*