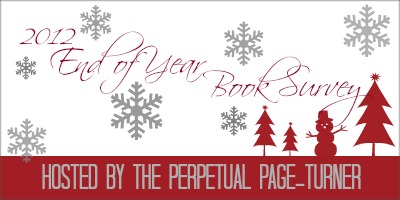 The 2012 End of Year Book Survey is hosted by Jamie at The Perpetual Page-Turner!
I don't normally do surveys but this one looks like loads of fun and I've been enjoying reading everyone's answers so far! Also since this is my first year blogging I'm answering a lot of these questions for the first time so I figured I'd give it a go! Don't forget to swing by The Perpetual Page-Turner to link up your posts if you did participate!
Let's Begin!!
Best in Books 2012
1. Best Book
You
Read In 2012?
I can divide this up by genres… and thank goodness-there is no way I can possibly decide!
Dystopian:
Delirium by Lauren Oliver
Historical Fiction:
The Secret Keeper by Kate Morton
Contemporary:
Easy by Tammara Webber, If I Lie by Corrine Jackson
&
Pushing the Limits by Katie McGarry
Paranormal Romance:
Hush, Hush by Becca Fitzpatrick 
Adult Romance:
The Perfect Hope by Nora Roberts
Steampunk:
Dearly, Departed by Lia Habel
Non Fiction/Biography:
And I Don't Want to Live This Life by Deborah Spungen
I couldn't decide :S


2. Book You Were Excited About & Thought You Were Going to Love More But Didn't?
Grr… I'm still upset about this one.
Blind Spot by Laura Ellen. 
Gosh, I was sooo freakin excited for this one and the ending blew it for me big time. Still love the cover though 😛
3. Most surprising(in a good way!) book of 2012?
I will have to go with Crewel by Gennifer Albin.  I really did not expect to love this one as much I did!
4. Book you recommended to people most in 2012?
I'm pretty sure it was probably
Delirium by Lauren Oliver
or it might have been
The Hunger Games by Suzanne Collins
as well. I book pushed big time this year, haha.
5. Best series you discovered in 2012?
Oooh.. it's so hard to pick! I would say probably
Hush, Hush by Becca Fitzpatrick
. I loved the entire series(5 stars for every book) and the series is finished now so I'll go for that one.
6. Favorite new authors you discovered in 2012?

This is also a hard one for me because I discovered so many new authors this year! I only got into YA in May and had no idea I was missing out on so much! Becca Fitzpatrick, Lauren Oliver, Cassandra Clare, James Dashner… just to name a few! 
7. Best book that was out of your comfort zone or was a new genre for you?
 Gosh so many books were out of my comfort zone or just completely new! Dearly, Departed by Lia Habel was a big one for me! Basically my first Steam punk and zombie fiction to boot! Also Partials by Dan Wells – I used to hate sci-fi! Now I love it 🙂
8. Most thrilling, unputdownable book in 2012?
 Why are these questions so hard? I will have to go with If I Lie by Corrine Jackson or Easy by Tammara Webber.  I started both of these in the middle of a work week, and literally thought about calling in sick to finish them 😉
9. Book You Read in 2012 That You Are Most Likely To Re-Read Next Year:
Easy by Tammara Webber.  I could have opened it right back up from the beginning the moment I finished it, I dieddddd for this one <3 
10. Favorite cover of a book you read in 2012?
As much as my review of this book was not great, I will have to say Blind Spot by Laura Ellen. This cover is so freaking beautiful that I might just by the silly thing to have it on my shelf! Also I seen a real life copy of Crewel by Gennifer Albin in the bookstore the other day and almost passed out.  It's stunning.  
11. Most memorable character in 2012?
Well… we are going to completely eliminate my book boyfriends from this because it's not a competition 😉 I'm going to go with Quinn from If I Lie, I was so sad for her the entire time. Argh. 
12. Most beautifully written book read in 2012?
 This one was so easy for me: If I Lie by Corrine Jackson. I seriously cried approximately every 20 pages, it was ridiculous but soooo beautifully written.
13. Book that had the greatest impact on you in 2012?
Honestly… the three listed in my top contemporary(1st question) had such a huge impact on me…. I still cannot stop raving and they left me emotionally raw. Another one was I Don't Want to Live this Life by Deborah Spungen. Seriously it kinda effed me up, it was sooo sooo heartbreaking, and it being a true story just made it so much worse. It's astonishing the sadness this girl had in her life(Nancy Spungen-the daughter of the author) and how no one would help her.  
14. Book you can't believe you waited UNTIL 2012 to finally read?
Well… about 50% of the books I read! But in all seriousness, Delirium by Lauren Oliver… why didn't I read it before?! 
15. Favorite Passage/Quote From a Book You Read In 2012?
Oh there are so many of them! I collect quotes & passages and little sayings like I do books now aways, lol. This is absolutely a cheat question 🙂
1. "If you can't feel, why did you kiss me?" 
Patch traced a finger along my collarbone, then headed south stopping at my heart. I felt it pounding through my skin. "Because I feel it here, in my heart," he said quietly."
― Becca Fitzpatrick, Hush, Hush 
2. "I love you. Remember. They cannot take it"
― Lauren Oliver, Delirium
3. "Love is not the absence of logic
but logic examined and recalculated
heated and curved to fit
inside the contours of the heart"
― Tammara Webber, Easy
16. Shortest & Longest Book You Read in 2012?

Shortest: I read quite a few novellas this year so I won't count those. An actual book-book though? Probably Beautiful Demons by Sarra Cannon(or another one in that series
Longest:
A Discovery of Witches by Deborah Harkness
17. Book That Had A Scene In It That Had You Reeling And Dying To Talk To Somebody About It? (a WTF moment, an epic revelation, a steamy kiss, etc.) Be Careful of spoilers!
Well definitely the ending of Delirium… and then the ending of Pandemonium. *Dies* 
18. Favorite Relationship From A Book You Read In 2012?


 
GAGHHHH again, haha. I'm cheating…. Lena & Alex(Delirium), Jackie & Lucas(Easy) and Noah & Echo(Pushing the Limits). 
19. Favorite Book Read in 2012 From An Author You Read Previously
 The Secret Keeper by Kate Morton! I loveeeee her writing, and I haven't given her books anything less than 5 stars!
20. Best Book You Read That You Read Based Solely On A Recommendation From Somebody Else:


 
And I Don't Want to Live This Life by Deborah Spungen. My best friend recommended this to me and I'm so glad I finally picked it up. Amazing. 
Best Blogging/Reading Life in 2012
1. New favorite book blog you discovered in 2012?

Well I only discovered the book blogging community this year so can I say everyone? Lol. Some of my absolute favorites though:
Xpresso Reads

,

Book Nerd Canada

,

Parajunkee

, … and so many more! Honestly I love all the book blogs I subscribe to… everyone brings something different to the table! 
2. Favorite review that you wrote in 2012?
Probably my review for Crewel by Gennifer Albin or Beneath the Glitter by Elle & Blair Fowler.  I loved Crewel so much and wrote the review immediately after finishing because I just couldn't hold it in and for the other one, well lets just say that I normally hate writing bad reviews but that one pissed me off so much that it felt good getting it all out some where 🙂 
3. Best discussion you had on your blog?
 
I didn't really have any discussions on my blog… but I loved talking in the comments 🙂
4. Most thought-provoking review or discussion you read on somebody else's blog?
 
When it comes to discussions, I am usually one of those silent readers. I really love reading discussion posts and others comments but it's not something I frequently comment on. I do really like the discussion/opinion posts on 
Stacked
. I often disagree with the opinions but I really like the debate points! I also love the discussions from
Blogger's Corner
.
5. Best event that you participated in(author signings, festivals, virtual events, memes, etc..)


 
Ooooh… that was hands down Fan Expo 2012 here in Toronto. I met Lesley Livingston & Kelley Armstrong. Lesley Livingston is seriously one of nicest freaking people in the WORLD, and sooooo bubbly!
6. Best moment of book blogging in 2012?


 
Well I think it's tied between when I received my first comment and when I finally published my self hosted blog. I was elated when I got my first comment, I danced around my house for a good 5 minutes! And it was basically the same thing when I finally "mastered" WordPress and got this bad boy up and running 😛
7. Most popular post this year on your blog? (comments or views)

It would either be Stacking the Shelves or Top Ten Tuesday. 
8. Post You Wished Got a Little More Love?

Any of my reviews really, lol. 
9. Best bookish discovery (book related sites, book stores, etc…)
 
Well… the entire book blogging community as a whole! What did I do this time last year?! haha. And absolutely Goodreads. I honestly don't know how I survived with my to-buy system before: little scraps of paper scattered everywhere… so disorganized!
10. Did you complete any reading challenges or goals that you had set for yourself at the beginning of this year?
 
Well I just wanted to read more altogether. Last year my reading fell below unacceptable, and I wanted to make sure that didn't happen. I don't think I'll meet my goal for the year(I hardly read any at the start of this year) but I'm close so that is satisfactory. 
Looking Ahead…
1. One book you didn't get to in 2012 but will your number 1 priority in 2013?
Cinder by Marissa Meyer. I've let this one go way too long, lol. Also Clockwork Angel(and Clockwork Prince) by Cassandra Clare.  
2. Book you are most anticipating in 2013?
Hands down… Requiem by Lauren Oliver.  
3. One thing you hope to accomplish or do in your reading/blogging in 2013?
Just read more! And be a bit more organized blog wise. I've gotten much better for December(I'm about 2 weeks ahead with posts) but I hope to have the majority of my posts scheduled at least 1 1/2 weeks ahead.  It is so time-consuming to spend half a day on the weekend rushing to get everything done and I know if I leave it until the night before there will not be a post… I'm just too tired after work.  Now that I'm more happy with my blog(thank you, WordPress!) I can focus more time on actually reading.  I spent more time blogging this year I think :S
Phew. I made it through! Did you participate in this survey? Link up your posts!! I'm loving reading everyone's replies!
Happy Reading!
xo, Lauren