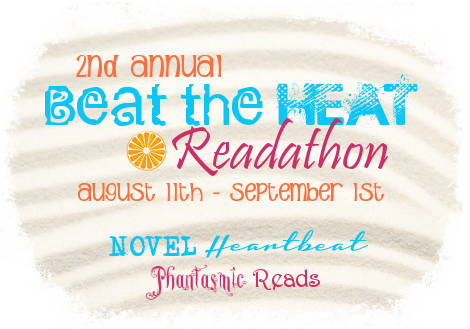 *Hosted by Novel Heartbeat and Phantasmic Reads*
I am so excited that the Beat the Heat Readathon is back 🙂 I had a great time participating last year and it really motivated me to get a lot of reading done, so I'm hoping the same will be true for this year.
I am being especially ambitious this year… I want to read 10 books. I really, really need to get caught up on my reading and particularly my Goodreads challenge so I think this challenge is just the ticket. I'm perfectly capable of reading ten books in those three weeks, I just need to stop getting distracted with television haha.
I'm leaving my reading list fairly open because I hope to get some TBR reads done and also I'm participating in ARC August so there will probably be some ARCs as well. Really, I'm just hoping to grab what I'm in the mood for that will best help me accomplish my goal!
I will do weekly updates, along with my ARC August updates so stay tuned for those after kickoff on August 11th!!!
Are you participating in this readathon? I definitely recommend it because it's such a great way to accomplish some great summer reading!! Link up your goals!!