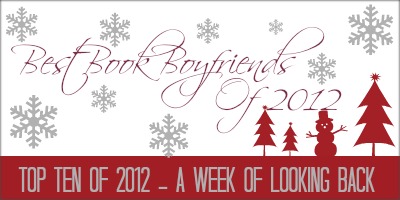 *Hosted by Mindy from Magic Urban Fantasy Reads, Lisa from A Life Bound By Books, Jessica from Confessions of a Bookaholic, Rachel fromFiktshun, and Jaime from Two Chicks on Books.
At last! My favorite topic <3 I have so many wonderful book boyfriends now… lol. These boyfriends might not have been the perfect boys in the books but in my head… they certainly are! The hard part about this for me was that they had to be from 2012 releases AND that you have read. :S
1.  Matthew Clairmont from Shadow of Night – Ahhhh. I love his love for Diana. I love his intensity and his family and everything about him really. He's perfect <3

2. Four from Insurgent – I personally think Tris doesn't deserve Four… because he is awesome, and she is a whining imbusule lately… and he is STILL nice to her!!

3. Alex from Pandemonium – AHA! I can find a way to cheat, lol. He DID appear in the second book… so what if it was the last 10 lines, HE WAS THERE <3

4. Patch from Finale – Patch is the love of my life. Nuff said. And if Nora is done with him… I'll take this bad boy. And it just makes it all the more perfect that he is a fallen angel. 

5. Fenrys from Starling – He's an interesting fellow… I can't wait to see where they will take him in the upcoming book. But he makes a good boyfriend(ish).
6. Noah from Pushing the Limits – Notice a bad boy trend? haha. I love him and Echo together <3

7. Lucas from Easy – Do you really think I would not include Lucas? Jeez… the picture on the cover is enough to make you swoon in itself. And then you read about his tattoo's, and his kindness… and his toughness. Ahhh. I love tattoo's lol. 

8. Jake from What I Didn't Say – I loveeeed Jake. He was so freakin kind. And he loved Samantha so much. Perfect couple, perfect book boyfriend!

9. Hayden from Cursed –  Hayden was a bit… intense but I still liked him none the less. To be honest, I was really running short on names as well and then I remembered. So he didn't instantly come to my mind 🙁 He is portrayed as super sexy and I really liked how kind he was to Ember.

10. Ryder from The Perfect Hope – This is an adult romance but who cares. Ryder was my favorite out of all the boys(it's a trilogy) and has just enough roughness around the edges 😉
 And I'm done… I wish that each book boy had a photo included in the jacket of the book <3 lol.
Who did you pick as your best book boyfriends? Share me with please 🙂
Happy Reading, 
xo Lauren