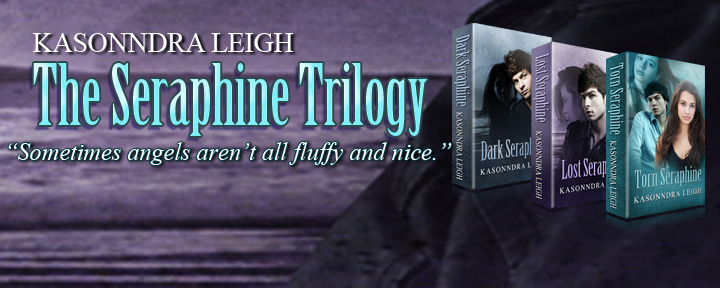 I am really excited to take part in the cover reveal for Torn Seraphine by KaSonndra Leigh! I read Dark Seraphine earlier this year and really enjoyed it so I'm looking forward to reading the second and third installments. Keep going for information on all three of the books and to see the beautiful third cover!!
Torn Seraphine
by
KaSonndra Leigh
Expected Publication: Fall 2013
Series: Seraphine Trilogy #3
*Add Torn Seraphine on Goodreads!*
Once upon a time an angel fell in love with a mermaid. And the god of the sea cast a curse.

When Caleb Wood accepted his celestial heritage, he was given a gift from the dying sea king, a way to protect the girl he loves. But Gia still fights her connection to Erica, the girl bound to Caleb by the Angel of Chaos. Caleb's new ability hasn't been strong enough to break the link.

Caleb faces two choices. He must decide if he will accept his heritage and fulfill a prophecy that will wipe away his memories of Gia. The laughter, the kisses, every single touch and emotion they have shared will be gone forever. Or he can stay, help her fight to save her home and live happily ever after. But doing so will ignite the prophecy and threaten everyone Caleb and Gia loves.

Under the new sea king's rule, Gia's people are divided, and she doesn't know who to trust. Gia must find a way to alter the prophecy, even if doing so means betraying the new king.

Friends will become enemies. Gia and Caleb's love faces the ultimate test.

Will Caleb give in to the darkness? Or will he fall into the arms of the girl he loves? Find out in the explosive conclusion to the Seraphine Trilogy.
Dark Seraphine
Book #1 in the Seraphine Trilogy
Published: October 2012
Goodreads | Amazon | My review
"Mom always says the angels walk among us. She forgot to tell me that sometimes they're not all fluffy and nice."

Seventeen-year-old Caleb Wood has seen people he calls the walkers since he was a baby. It didn't take long for him to realize something…no one can see these strangers but him. They never stuck around or tried to touch him. And they never said a word. That was until one day on the first day of class in his senior year when an incredibly gorgeous girl strolls into his life…and things are never the same again.

Soon Caleb realizes he has stepped into the middle of a growing conflict between two ancient groups. And his ability to see the invisible ones, the half-breeds that want to modify the human race, just might be the only hope both he and the mysterious, but infuriating, Gia, have of making it out alive.
Lost Seraphine
Book #2 in the Seraphine Trilogy
Expected Publication: Fall 2013
Add it on Goodreads!
Caleb Wood now knows the Dark Seraphine's true identity.

Life should be a little more sane now, right? Wrong! It's kind of hard to ignore the walkers, fallen souls taken by the Angel of Chaos. Oh yeah, only Caleb can see them.

After saving his girlfriend from the wrath of a sea witch, Caleb finds himself faced with a new problem…understanding the strange tattoos showing up on his body. He must also deal with his Lost Seraphine, the girl who left her family behind to save the boy she loves. The same girl who just happens to be the daughter of a mythological god.

Gia gave up one of her powers to be with Caleb. She knew that she was connected to the Dark Seraphine in some way.  You see, there's a prophecy, something she always believed to be a fairy tale linking her with the girl who also wants Caleb. Haunted by visions of her dead brother, Gia realizes she has made a terrible mistake. The ability she gave up is the one thing she will need to keep her boyfriend safe.

Will Caleb be able to accept the things he will learn about his real father while trying to save the girl he loves from herself? Book Two of the Seraphine Trilogy and prequel to the Lost Immortals Saga is coming soon.