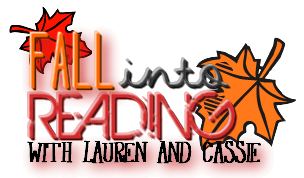 If you follow Cassie or myself on Twitter you might have seen us talking about our upcoming read along… well IT'S THAT TIME NOW 🙂 My dear friend Cassie and I had the stupendous idea to bring Fall in with a bang, a.k.a a read along and since we both love pushing our favorite genres on each other we have settled on one paranormal read and one contemporary read!
The read along will take place from October 3rd to October 31st 2013 and first up will be…
and
At the end of the first week of each book we will be posting questions and some discussion! Fangirl discussion will be over at Books with Cass and 3:59 will be right here at Lose Time Reading!
We will also be hosting a dual giveaway with more entries the greater the participation level! (More details will be posted during the read along, but a sneak peek… there will be TWO winners!!)
Are you interested in reading these two books? SIGN UP WITH US! We plan on having a ton of fun and lots of Twitter chatting 🙂