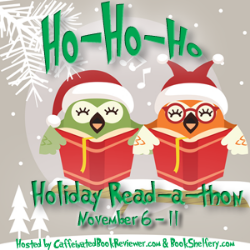 *Hosted by The Caffeinated Book Reviewer and BookShelfery*
I'm very, very excited to participate in the Ho-Ho-Ho Holiday Read-a-thon this year. I participated last year but didn't get a lot of reading done so I am well prepared to get some done this  time around! I have quite a few holiday books lined up and ready to go, and I hope to get at least two read. Not a steep goal, but one that is easy to achieve I hope, and with any luck maybe I can squeeze in even more 🙂
I'll be updating my progress on this post as the event goes on so be sure to check back!
Here is the list of books I have to choose from:
My True Love Gave To Me: Twelve Holiday Stories by Multiple Authors
Sleigh Bells in the Snow by Sarah Morgan
An Amish Christmas by Beth Wiseman
North Pole Reform School by Jaimie Admans
Silver Bells by Luanne Rice
Sisters in Love by Melissa Foster
This Christmas by Katlyn Duncan
That's my holiday list 🙂 What is on your list? Any suggestions for books I should read this holiday season? Link up!