Ok firstly, I just want to let everyone know that my first installment of my organization feature will be this coming week. I had a post drafted for tomorrow, went to final edit it and deleted a major part of it. I have no idea how to get it back, I tried to restore my previous drafts but it autosaved the new updated one? I'm not sure… I am not a WordPress genius lol. I have it almost finished again but I don't want to leave anything out so I'll be posting it next week instead 🙂
NOW… this is my new discussion feature, Lose Time Chatting(HAH, names are not my forte… seriously). I'm not sure if it will be a weekly thing going forward or what. I'm just going to have one for now whenever I feel like I have something to say 🙂 Which brings me to this weeks topic, because it JUST HAPPENED TO ME…. "The Library: When Good Books Go Back".
Ohemgee. I seriously have a massive, ridiculous obsession with the library. I only recently got my library card (May) and I instantly became addicted. I was loving reading books that I was iffy on buying because I wasn't sure if I would like them FOR FREE. I immediately went through my TBR(the night I got the card) and placed every single book that I "needed" on hold. Then I went onto my libraries Overdrive service and made a wish list for every single book that was available in e-book that I wanted to read. And audio book. Then requested holds. Do you see the potential disaster here?
My books started coming in droves… SO MANY BOOKS. I couldn't even choose(and lets not forget my physical TBR pile is enough to bury you alive if it collapsed.) but I COULD NOT STOP GETTING THEM.
Let's paint a little picture here… I currently have 4 digital items on hold; and this: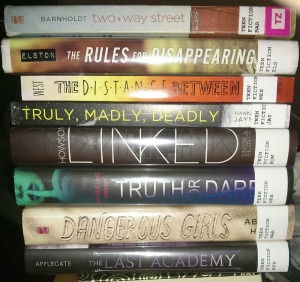 Yes, my dear friends… that is what my hoarding tendencies have done. It's a mini bookish disaster. I am certain I am not capable of reading all of these books by the time they go back. Do you know why I am certain?
Because I sadly have had to return so many wonderful books because they are on hold with others, or they are ebooks and they automatically go back. It's a sad, sad day when it happens. Today I had to part ways with The Book of Broken Hearts by Sarah Ockler at page 127. I almost cried a little. And I just placed myself back on the hold list, with 50 other people. I need to finish this book… like NOW.
It's a never ending cycle that I fear I will never stop. The library is just way to0 appealing for bookworms like me. I need ALL the books… even though I can't read them. There is a small thrill in picking up my holds, especially when I've placed them on hold so far in advance that I'm the first one to read the copy. Ahhh… my nerves. (And yes, I am fully aware that I am putting myself through this torture… it's a very strange habit).
And so my question:
Does anyone else have this problem at the library? Do you borrow too many books? Are you able to get them read in time? How do you limit yourself?
Discussion time friends 🙂 What are your thoughts???