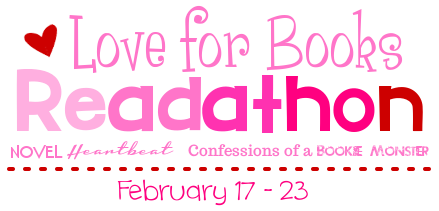 *Hosted by Novel Heartbeat & Confessions of a Bookie Monster*
It's time for another Readathon! I've been careful about not joining ALL the readathons this year, like I normally do, but it was high time for one! I am participating in the Review Copy Cleanup all month-long but I need this little boost to get some more books read! I'm not sure what it is with 2014 but I've been behind in reading, I've been trying to get it together the past few weeks but I still need to get caught up on the Goodreads challenge, its way too early to be falling behind! Love for Books Readathon is just the ticket!
I'm not exactly sure what I will be reading this week, but my goal is to read 4 books! Certainly not out of the realm of possibility and enough of a push that I will feel accomplished 🙂
I will be updating my progress daily on this post, so stay tuned!
Monday 2/17
Currently reading: Perfect Lies, Siege and Storm, Sweet
Pages read today: 174 of Perfect Lies, 45 of Siege and Storm and 64 pages of Sweet
Time spent reading today: 3 hours 30 minutes
Books completed today: Perfect Lies
Tuesday 2/18
Currently reading: Sweet, Siege and Storm
Pages read today: 103 pages of Sweet
Time spent reading today: 2(ish) hours
Books completed today: None!
Wednesday 2/19
Currently reading: Sweet, Siege and Storm, A Discovery of Witches (reread)
Pages read today: 93 of Sweet…
Time spent reading today: 1 hour (so far)
Books completed today: Sweet
Naturally, I forgot to update this daily (no surprise here, I always seem to do this). So I'm just going to put my total progress tomorrow when I have the ultimate number!
SUMMARY
Total # pages read:
Total time spent reading:
Books I completed: Perfect Lies by Kiersten White, Sweet by Erin McCarthy, Faking Normal by Courtney C Stevens, The Summer I Found You by Jolene Perry
Are you participating? Leave a link to your post!!