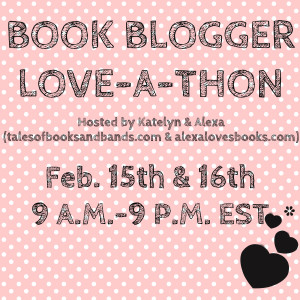 I'm so excited for this mini challenge, but not for my own post… I love to read others posts and find new blogs 🙂 I actually really have a hard time selecting these type of awards because I always feel like I'm going to leave someone out and hurt their feelings, in high school I used to dread these exercises because of that reason 😛 Oh well, I've sucked it up and narrowed it down. NOW, this by no means that there aren't others in these categories… I just basically took the ones that came into my mind immediately!
Best Blog Design
1. The Perpetual Page-Turner – Jamie has incredible design skills and I loved her designs since the second I laid eyes on her blog. BEAUTIFUL!
2. Paper Riot – Judith is a phenomenal designer! I also love her clean layouts, I could just stare at them all day!
3. Oh, Chrys! – BEAUTIFUL! I have always loved her designs… stunning. 
4. Fiktshun – One of the very first blogs I discovered and I have loved EVERY single design that she has had. She has had a ton of different looks but they are all beautiful.
5. Xpresso Reads – Another one of the first blogs I discovered, and I immediately fell in love with the design!
Best Weekly Feature
1. Life of a Blogger @ Novel Heartbeat – Although I don't participate in this one (yet! I'm hoping to start participating soon!!), I LOVE reading all of the posts every week!
2. Top Ten Tuesday @ The Broke and the Bookish – I LOVE this meme. LOVE it. I have so much fun adding new books to my TBR from everyone's posts every week 🙂
3. EcoBetty @ Book Rock Betty – I'm not entirely sure if this is a weekly feature but *shrugs*, I LOVE this feature. Betty knows SO much about holistic and clean living and her topics are just FUN!
4. I can't pick just two more; My favorite weekly features EVER are wrap ups that include links to discussion and fun posts around the blogosphere… My favorites are at Another Novel Read, A Bookish Heart, Christina Reads YA, The Paper Sea, and Alexa loves Books.
Best Discussion Posts
1. Books With Cass – Cassie's discussion posts are always fun and she has a ton of great topics… I don't know where she gets these ideas!!!
2. Snuggly Oranges – I love Debbie's discussion posts. They are always LONG and so well thought out, I smile every time one comes up in my reader 🙂
3. The Library Canary – Rebecca has a new discussion every week, I LOVE when they pop up in my reader!
4. The Perpetual Page-Turner – I tried to pick different people who I haven't used but I can't help it, Jamie's discussions are AMAZING! And SO frequent!
5. Effortlessly Reading – Kelly has amazing discussions. I always love the topics that she comes up with!
Friendliest Blogger
1. Alexa @ Alexa Loves Books – She is just SOOO nice, there is no other way to put it! 
2. Asti @ A Bookish Heart – Asti is the best conversationalist I have ever seen! I have never commented on Asti's blog and not had it returned. She includes everyone, and even has special shoutouts in her vlogs to everyone that comments on her blog!
3. Ellice @ Paper Riot – Ellice is a sweetheart, like seriously… nicest and friendliest EVER!
4. Hannah @ Soo Obsessed With – Have you ever spoke to Hannah? DO IT! She is amazingly kind and friendly!
5. Melissa @ Writer Grrl Reads – Melissa is AMAZINGLY sweet and friendly. She is one of the first bloggers I ever became friends with and one of my nicest people in the blogosphere, IM SURE!
Most Helpful Reviews
1. Hannah @ Soo Obsessed With – Hannah reads a TON of genres and books that I have thought to read but her reviews are always incredibly well thought out and I have added a ton of books to my pile because of her!
2. Debby @ Snuggly Oranges – Debby's reviews, like her discussions, are amazing. She talks SO much about the book and more like you would have a conversation rather than point by point. I love her review style and I have often added AND removed books because of her reviews!
3. Jessi @ Novel Heartbeat – I LOVE Jessi's reviews! She doesn't hold back and she is very trustworthy. Her opinions also differ a lot from others and I LOVE that!
4. Sharon & Raquel @ The Book Barbie's – I don't read romance a lot but I have added a ton of books because of their reviews. I like that they review a genre that I don't dabble in a lot and I come her ALWAYS for recommendations in their reviews!
5. Betty @ Book Rock Betty – Betty has a totally different review style than any other blogger and it's AMAZING. They are short, to the point and often in bullet form but they are AWESOME! And her husband writes the summary! I have found a TON of recs in Betty's reviews
Favorite Bloggers to Fangirl With
Well.. this isn't sticking to five! I will fangirl with ANYONE seriously!! I love to talk about books and I have some of the best "squee" moments on Twitter! Over the last week I have fangirled most with Cassie, Betty, Ellice, Judith, Alexa, Kelly, Leah, and Wendy! And if I left anyone out I am SORRY! I went off the top of my head referencing back to VERY IMPORTANT conversations about The Black Dagger Brotherhood and The Grisha Trilogy 😛
Phew! I'm done! I didn't do the author ones because honestly, I don't really follow a lot of authors blogs (so if you have recommendations PLEASE!) and I just DON'T KNOW when it comes to authors twitters! Haha, I told you this was hard for me!
Happy Love-A-Thon!!