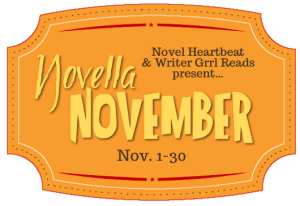 *Hosted by Novel Heartbeat & Writer Grrl Reads*
When this challenge popped up in my Feedly on Saturday I KNEW that I had to sign up. I have so many novella's on my Kindle that have been piling up for months but I keep putting them off for some reason, so this is the perfect reason to get them read 🙂
I don't have crazy expectations for myself (surprisingly since I am always trying to burn myself out on challenges I think…) but I do have quite a few that I plan on reading this November!
Roar & Liv by Veronica Rossi
Brooke by Veronica Rossi
This Christmas by Katlyn Duncan
Infinite Repeat by Paula Stokes
Seeking Her by Cora Carmack
Finding Cinderella by Colleen Hoover
Annie and Fia by Kiersten White
Red at Night by Katie McGarry
So I'm not sure if I will get all of them read but I hope to finish at these half of the list. I don't actually own/possess the two novella's by Veronica Rossi, I will have to borrow them from the library, so they will be the last ones read. I won't be doing progress reports throughout the month, but I will keep this post updated with what I've read through November 🙂
What are your goals for Novella November? Are there any other novella's that you would recommend?! Link up!