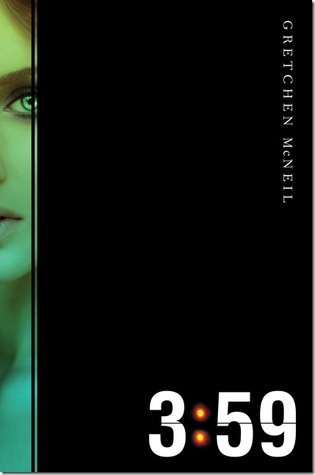 Pages: 368
Published: September 17th 2013 by Balzer & Bray 
Series: N/A – Stand Alone
Source: Borrowed from the library
Amazon | TBD | Kobo | Goodreads

Josie Byrne's life is spiraling out of control. Her parents are divorcing, her boyfriend Nick has grown distant, and her physics teacher has it in for her. When she's betrayed by the two people she trusts most, Josie thinks things can't get worse.

Until she starts having dreams about a girl named Jo. Every night at the same time—3:59 a.m.

Jo's life is everything Josie wants: she's popular, her parents are happily married, and Nick adores her. It all seems real, but they're just dreams, right? Josie thinks so, until she wakes one night to a shadowy image of herself in the bedroom mirror – Jo. 

Josie and Jo realize that they are doppelgängers living in parallel universes that overlap every twelve hours at exactly 3:59. Fascinated by Jo's perfect world, Josie jumps at the chance to jump through the portal and switch places for a day.

But Jo's world is far from perfect. Not only is Nick not Jo's boyfriend, he hates her. Jo's mom is missing, possibly insane. And at night, shadowy creatures feed on human flesh.

By the end of the day, Josie is desperate to return to her own life. But there's a problem: Jo has sealed the portal, trapping Josie in this dangerous world. Can she figure out a way home before it's too late?

From master of suspense Gretchen McNeil comes a riveting and deliciously eerie story about the lives we wish we had – and how they just might kill you.


I was SOOOO excited to start 3:59. It was actually one of my most anticipated reads for the fall. I really started to fall in love with parallel worlds/alternate universe stories after I read Pivot Point and I was itching to fill that void.
Josie, the main character, was very likable. She was one of those characters that cared more about the people around her than herself and I appreciated that. She wasn't self-centered, she was a bit nerdy and very loyal to her friends, or really anyone that she thought deserved that loyalty. Jo, the alternate, was totally the opposite and I can't say I liked her at all (although looking back I'm not sure if the reader was really meant to like her). The characters weren't really a focus of mine in the story. While I liked the majority of them, besides Josie-Nick (what an ass), I didn't really get attached to any of them.
3:59 is definitely a plot-driven story in that aspect. I LOVED the story. I thought it was fantastic, and extremely well done. It did have quite a bit of science (quantum physics?) but it was well explained and didn't confuse me as a reader at all. Sometimes I find sci-fi is VERY confusing, and some things aren't detailed out for a non-regular reader of science fiction. The mirror as a portal to the parallel universe, that only stayed open for one minute every twelve hours, was just so freakin cool to me. I loved that aspect.
Another element that I very much enjoyed was the fact that the alternates had totally different personalities. I liked that even though I didn't like a character on one side of the mirror, I liked them on the other side. It was also very hard to tell who to trust, and maybe I was naive, but I didn't catch on to a lot of the twists until they were happening. That itself was probably my favorite thing about this novel, that the twists and turns were very well done. I often can predict parts of the story before they happen but I didn't do that in 3:59.
I really enjoy Gretchen McNeil's writing. I have all of her other novels but had yet to pick up one, but this has convinced me I need to do that asap. Her style of writing is catchy and engrossing and I didn't want to put 3:59 down once I started.
The ending was well done, and slightly open-ended which was interesting. The reason this is a 4 star, and not a 5 star for me though, is because of the ending. I will not spoil it but I would have liked it done a bit differently. It's not a deal breaker though, and I still think a lot of people would like the way the story turns out.
I would definitely recommend picking up this one, especially if you enjoy other parallel universe stories. It has only made me want MORE!