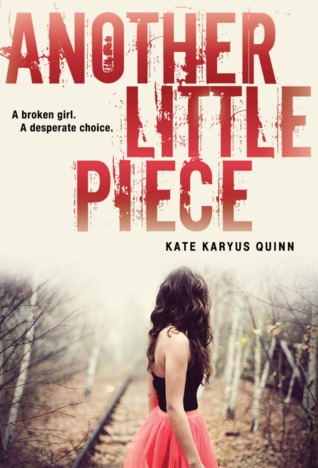 Pages: 432
Published: June 11th 2013 by HarperTeen
Series: N/A – Stand Alone
Source: HarperTeen via Edelweiss
Amazon | TBD | Kobo | Goodreads

The spine-tingling horror of Stephen King meets an eerie mystery worthy of Sara Shepard's Pretty Little Liars series in Kate Karyus Quinn's haunting debut.

On a cool autumn night, Annaliese Rose Gordon stumbled out of the woods and into a high school party. She was screaming. Drenched in blood. Then she vanished.

A year later, Annaliese is found wandering down a road hundreds of miles away. She doesn't know who she is. She doesn't know how she got there. She only knows one thing: She is not the real Annaliese Rose Gordon.

Now Annaliese is haunted by strange visions and broken memories. Memories of a reckless, desperate wish . . . a bloody razor . . . and the faces of other girls who disappeared. Piece by piece, Annaliese's fractured memories come together to reveal a violent, endless cycle that she will never escape—unless she can unlock the twisted secrets of her past.


Umm… what? I'm hoping this review will be more than a rambling bunch of nonsense because honestly, I am not quite sure I can put into words what Another Little Piece did to me. I'm not going to go into a summary as the synopsis is great and is exactly what the story is about… so twisted.
Annaliese or Anna as she calls her self was such a warped, amazing character. Honestly, one of the best main characters I have read, as a whole, in a very long time. She was confused, alone, and felt like she was constantly longing for something… and you come to learn that she is. I'm not sure what it was exactly that made me warm up to Annaliese so much but I adored her. As sick and twisted as some of the things you come to learn about her, there was this soft spot in her that I clung to. I also really liked "the dad" and "the mom", they just had such undying love for Annaliese that it made my heart hurt a bit. And Dex… he was super weird as well but I really liked his character.
Another Little Piece is not for the weak hearted. It is pretty disgusting at points, it's completely twisted and at some especially descriptive points I thought I would have to put it down. That being said it is a completely original and beautiful novel under all of that. I have never read anything like this novel, and I'm not sure it could ever be matched. Kate Karyus Quinn is a fantastic writer, honestly her prose is phenomenal. The way Annaliese's poems were inserted into the storyline just added to the creepy factor and made it eerily beautiful.
The ending was complete. I actually didn't expect to be satisfied with the ending, once you read this you will understand, but it didn't seem like it would be an ending that left you satisfied. Not so obviously because I couldn't have been happier with how all the ends were tied up and questions answered.
I absolutely recommend this book, it's a wonderful story, a fantastic refreshing addition to the Young Adult genre and I cannot wait to see what Kate Karyus Quinn as in store for us next! My review cannot even begin to do this amazing book justice!


Happy Reading!

xo Lauren