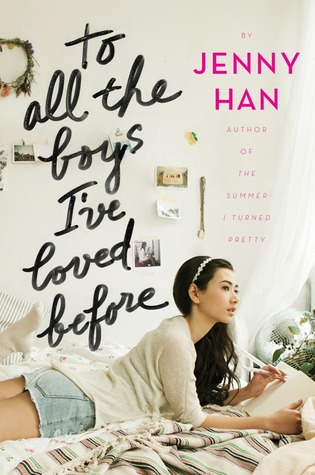 To All the Boys I've Loved Before by Jenny Han
Series: To All the Boys I've Loved Before #1
Published by Simon & Schuster Books for Young Readers on April 15th 2014
Pages: 288
Source: Purchased on Kindle
Add on Goodreads
Amazon•Kobo•TBD
My Rating:

Lara Jean keeps her love letters in a hatbox her mother gave her.

They aren't love letters that anyone else wrote for her, these are ones she's written. One for every boy she's ever loved—five in all. When she writes, she can pour out her heart and soul and say all the things she would never say in real life, because her letters are for her eyes only. Until the day her secret letters are mailed, and suddenly Lara Jean's love life goes from imaginary to out of control.


I started To All The Boys I've Loved Before (phew, what a mouthful!) on a whim. I've been grasping at what to read for months, clinging to this horrendous book slump I can't seem to shake. While scrolling endlessly through my Kindle reads , trying to find something to grab me I stopped on this one and figured, why not? I haven't read a light, fun contemporary in some time and they are normally swallowed up by me so I thought this might be just the ticket… AND IT WAS!
Lara Jean was a breath of fresh freakin' air. I adored this girl. She was lovely, annoying, sweet, caring, endearing and real. I know annoying is not necessarily a quality that most people enjoy however I liked that she had real qualities that sometimes made me want to swear at her! Her sisters were great. Margo was somewhat prissy to me and I didn't quite enjoy her as much but I can understand her personality. Kitty was MY FAVORITE! Gosh, this kid… hilarious. She is so spunky and I cannot wait to see what happens with her in the next book. Josh, Lara Jean's dad, Peter… honestly even the characters I didn't like were well crafted and important to the story.
I have to admit, the story is a little bit silly but I don't care. It's fun, it's light but there were serious moments and as ridiculous of a concept of a fake relationship is (not unrealistic just ludicrous to me but yanno… I haven't been a teen in over a decade as well :P) I cannot wait to see where this 'fake relationship' goes in the next book! Also, I have to say that it is completely refreshing to see a wonderful family unit in a YA novel. They weren't perfect, as any family is not, but they were real and lovely and I loved it.
Not only did I thoroughly enjoy this book for its story and characters but it helped pull me from this terrible reading standstill I've been at! I immediately went and requested P.S. I Still Love You from he library because I didn't open a copy and I'm excited to say that I am starting it as soon as this review is finished being written (I've been waiting so I didn't confuse the story between the two).
Can't wait to see what shenanigans Lara Jean and this beloved cast of characters is up to next!