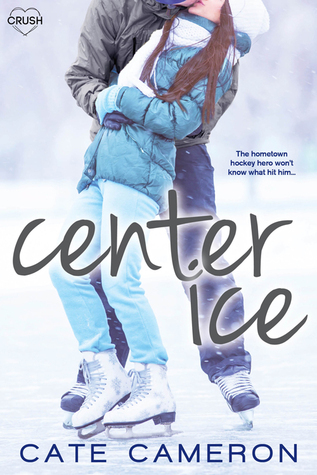 Center Ice by Cate Cameron
Series: Corrigan Falls Raiders #1
Published by Entangled: Crush on May 19th 2015
Pages: 196
Source: From Publisher
Add on Goodreads
Amazon•Kobo
My Rating:

The hometown hockey hero won't know what hit him...

Karen Webber is in small-town hell. After her mother's death, she moved to Corrigan Falls to live with strangers - her dad and his perfect, shiny new family - and there doesn't seem to be room for a city girl with a chip on her shoulder. The only person who makes her feel like a real human being is Tyler MacDonald.

But Karen isn't interested in starting something with a player. And that's all she keeps hearing about Tyler.

Corrigan Falls is a hockey town, and Tyler's the star player. But the viselike pressure from his father and his agent are sending him dangerously close to the edge. All people see is hockey - except Karen. Now they've managed to find something in each other that they both desperately need. And for the first time, Tyler is playing for keeps...


I am a huge fan of Entangled; the titles that I have read from their Teen imprint have been huge wins so I was incredibly excited to see that they were launching another YA imprint: Crush! Center Ice was definitely the title that I was drawn to first. The cover instantly caught my attention because it's winter themed (and I'm craving the cold even more now that it's starting to get hotter!) and secondly, it's sports themed! I haven't read a book about hockey players before but I have no limits when it comes to sexy atheletes 😛
The main character, Karen, grated on my nerves more than a character has in a really long time. She was SOOOO terrible to her new family. I completely understand that she was thrust into the most awkward situation, not to mention that her mother just died so she was incredibly heartbroken but she was really, really awful at first. Miranda and Matt (her siblings) weren't that pleasant to her, but Natalie (her stepmother) was making an incredible effort to help her fit in. I felt more for her stepmother than I did Karen for the first half of the book. Tyler, I was just meh about. I didn't really form much attachment to him at all, but I did really enjoy how sweet and caring he was to Karen. Their relationship was sweet, and I liked to watch that develop.
The story is told in alternative point of views, both from Tyler and Karen which I was really happy about. We got to see much more from each character by having that narrative. Dual point of view is often my favorite way to read a story so I was happy to see it worked well here as well.
The main plot points (other than the romance) that the book circled around were that Tyler was being pushed too hard by his controlling father, and Karen's mother passing away and her being sent off to live with a father she didn't know. Her father had cheated on his wife with Karen's mother, so it was definitely a different scenario that I hadn't seen before. Unfortunatly I felt like most things were dealt with on the surface. Will & Natalie's story had a nice play out, and I liked the conflict/resolution that took place there, but I wish we had of seen more of Tyler's family issues play out and a bit more of a resolution. I also felt that Karen was dealing with a lot of her emotions by meeting Tyler as if that would fix it all, which felt a bit overdone.
For the first half of the book I was dragging my feet through it hoping it was going to pick up. I did enjoy it but it was the last quarter of the book that had me actually interested and hoping for everything to work out. I enjoyed the heart to heart moment that Karen and Natalie had, and the relationship that you could see start to be built from that. I also really appreciated that the ending wasn't SO perfect. I liked that the family was still working on their issues but it wasn't competely back to normal. It was a realistic and enjoyable ending. Oh, and of course I was happy to see that Karen and Tyler's relation was strong also 😛
All in all, Center Ice was an enjoyable read but I wish it had of delved a bit deeper with some of the topics that the characters faced. I will probably continue the series with the second book because I really liked Winslow in Center Ice and he is the star of the second book 🙂