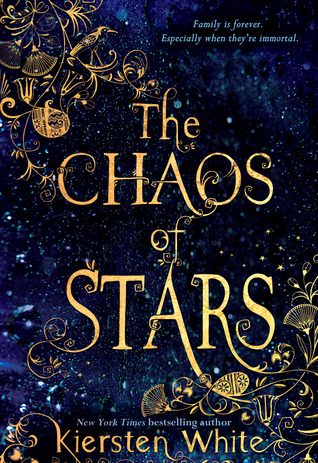 Pages: 288
Published: September 10th 2013 by HarperTeen 
Series: N/A – Stand Alone
Source: HarperTeen via Edelweiss
Amazon | TBD | Kobo | Goodreads

Isadora's family is seriously screwed up.

Of course, as the human daughter of Egyptian gods, that pretty much comes with the territory. She's also stuck with parents who barely notice her, and a house full of relatives who can't be bothered to remember her name. After all, they are going to be around forever—and she's a mere mortal.

Isadora's sick of living a life where she's only worthy of a passing glance, and when she has the chance to move to San Diego with her brother, she jumps on it. But Isadora's quickly finding that a "normal" life comes with plenty of its own epic complications—and that there's no such thing as a clean break when it comes to family. Much as she wants to leave her past behind, she can't shake the ominous dreams that foretell destruction for her entire family. When it turns out there may be truth in her nightmares, Isadora has to decide whether she can abandon her divine heritage after all.


I didn't have a great introduction with Kiersten White's book: I had read Mind Games earlier this year and to say I was less than thrilled may have been a bit of an understatement. Despite that when I seen the cover for The Chaos of Stars I was instantly drawn to it and reading the synopsis, even more so, so I had decided to give this one a chance.
Firstly, the main character Isadora is by far one of the most angst filled teenagers I have ever seen. This girl was a complainer! She was also super cynical and her views on romance/love were nothing short of depressing. I didn't fall in love with Isadora straight away, and in fact her angsty attitude made it difficult to read and get into the story at first. Further into the story, when Isadora started to open up slightly, I did enjoy her more, but I can honestly say I didn't love her upon finishing. I thoroughly enjoyed her family though. Isis, Sirus, Deena… I just loved them. They were warm, loving and due to the God thing, super interesting! Tyler, Scott & Ry were fantastic as well. I've always been a huge supporter in secondary characters and Tyler is high up on my list. She counteracted Isadora's negativity and pushed her to do things out of her comfort zone. And then we have Ry… I loved him, instantly. Yes you heard it here first, instalove. For the reader. He was very unique as a love interest and I enjoyed that. Plus he was super hot, drove an awesome truck and wrote poetry!
The story was unique and very interesting. I've knew nothing about Egyptian mythology going into The Chaos of Stars but the way Kiersten White presented the Gods and their stories was fantastic. I expected a lot of info dumping because a lot of mythology is complex but White found a way to explain the stories without overwhelming the reader. I actually came away from the story knowing quite a bit about Egyptian myths and I'm very interested in finding something else about it. I loved that Isadora was the human daughter to Gods, it added another element to the story because she was wholly different from her parents.
The plot was slightly predictable, although that did not take away the enjoyment for me. There were a few surprises at the ending that I didn't expect though! Kiersten White's writing style for The Chaos of Stars was fantastic. I loved that almost every chapter had one of Isadora's dreams or a memory from her past that had a mythological story or explanation. Both of those elements really played a part in the story plus it spiced up Isadora's present day story as well.
All in all, I would definitely recommend The Chaos of Stars. It was a very enjoyable read and Isadora's story left me wanting to read more. If you love mythology I would give this a try!