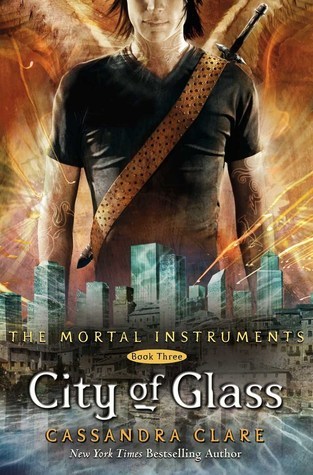 City of Glass by Cassandra Clare
Series: The Mortal Instruments #3
Published by Margaret K. McElderry on March 24th 2009
Pages: 541
Source: Purchased at Coles
Add on Goodreads
Amazon•Kobo•TBD
My Rating:

To save her mother's life, Clary must travel to the City of Glass, the ancestral home of the Shadowhunters - never mind that entering the city without permission is against the Law, and breaking the Law could mean death. To make things worse, she learns that Jace does not want her there, and Simon has been thrown in prison by the Shadowhunters, who are deeply suspicious of a vampire who can withstand sunlight.

As Clary uncovers more about her family's past, she finds an ally in mysterious Shadowhunter Sebastian. With Valentine mustering the full force of his power to destroy all Shadowhunters forever, their only chance to defeat him is to fight alongside their eternal enemies. But can Downworlders and Shadowhunters put aside their hatred to work together? While Jace realizes exactly how much he's willing to risk for Clary, can she harness her new found powers to help save the Glass City - whatever the cost?


City of Glass essentially leaves off where City of Ashes did. Clary is getting ready to go to the Glass City with the Lightwoods. Simon and Jace do not want Clary to go so they meet up in hopes to keep her from going, but instead Simon ends up in the Glass City. Clary ends up there eventually and so begins the war with Valentine.
You meet so many new characters in this book as well as more character development for existing ones. I love Simon more now, you are shown so much about his personality that wasn't shown in previous book, and I really love him as a vampire. I also love Isabelle. I have always liked her but in City of Glass she is more than just a tough girl, you get to see other sides of her. A lot of the characters I won't talk about because it will give away plot points, and they were a nice surprise when they came along-kept your attention.
Compared to City of Ashes this book was amazing! I went from loving City of Bones to just liking City of Ashes to loving this one! Such a strange cycle for a "trilogy". I loved City of Bones sooo much and then reading City of Ashes I wanted to give up on the series. I am so glad I decided to continue because it was amazing. There is so much action and quite a few twists and unexpected plot points, it really sucked you in till the last page.
The Mortal Instruments series is now more than a trilogy so I don't know how I will feel about the rest of the books. The ending was extremely satisfying so I hope it just doesn't get dragged out-I will continue reading it though.