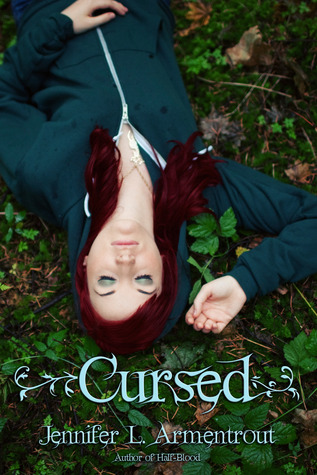 Pages: 288
Published: September 18th 2012 by Spencer Hill Press
# in Series: Standalone
Source: Purchased on Kobo
 Summary from Goodreads:

"Dying sucks– and high school senior Ember McWilliams knows firsthand. After a fatal car accident, her gifted little sister brought her back. Now anything Ember touches dies. And that, well, really blows.

Ember operates on a no-touch policy with all living things–including boys. When Hayden Cromwell shows up, quoting Oscar Wilde and claiming her curse is a gift, she thinks he's a crazed cutie. But when he tells her he can help control it, she's more than interested. There's just one catch: Ember has to trust Hayden's adopted father, a man she's sure has sinister reasons for collecting children whose abilities even weird her out. 

However, she's willing to do anything to hold her sister's hand again. And hell, she'd also like to be able to kiss Hayden. Who wouldn't? But when Ember learns the accident that turned her into a freak may not have been an accident at all, she's not sure who to trust. Someone wanted her dead, and the closer she gets to the truth, the closer she is to losing not only her heart, but her life. For real this time."
My Thoughts & Review:
 Cursed is about a girl named Ember who was brought back from the dead by her little sister, Olivia. Her whole family was involved in a car accident that left her father dead and her mother catatonic. When Ember was brought back from the dead she developed a deadly touch so she had to wear gloves to avoid touching anyone, in fear they would die. One day a strange boy makes an appearance… and then a strange man and suddenly her and family are kidnapped to a strange place where there are other "gifted" individuals.  Ember starts to discover strange secrets about the family she is with, Hayden and worst of all her family.
I was really looking forward to Cursed initially. When I first read the synopsis it really reminded me of Jenny Pox, a novel a really enjoyed. I also loved the cover. And I had heard so many wonderful things about Jennifer Armentrout's novels I thought this would be a good one to start with.
The main character Ember is really easy to dislike.  She was really whiney and her distrust of everyone around her started to get boring really quickly. I loved her younger sister Olivia, she was so sweet and trusting so she was immediately a very likeable character. Hayden was also pretty likable and true to most YA books, extremely sexy and irresistible. The other characters I didn't feel much personable attachment too and were just kind of "there".  I didn't find a lot of these characters untrustworthy the way Ember did so at times I found the story to be pretty unrelatable.
Cursed was a good read but fairly slow to get started.  I enjoyed the ending and I enjoyed the different "gifts" that were spoken about. Overall I enjoyed it but I felt there should have been a bit more character development because a lot of the characters really fell flat for me.
 My Rating:

 Happy Reading!