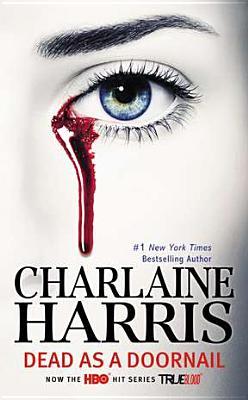 Pages: 304
Published: May 3rd 2005 by Ace 
Series:  Sookie Stackhouse #5
Source: Purchased from Indigo Spirit
Amazon | TBD | Chapters/Indigo | Kobo | Goodreads

"When small-town cocktail waitress Sookie Stackhouse sees her brother Jason's eyes start to change, she knows he's about to turn into a were-panther for the first time. But her concern becomes cold fear when a sniper sets his deadly sights on the local changeling population, and Jason's new panther brethren suspect he may be the shooter. Now, Sookie has until the next full moon to find out who's behind the attacks—unless the killer decides to find her first…"

*May contain spoilers for the previous books in the series*
I was really looking forward to continuing this series. When I initially started reading the "True Blood" books I thought I would dislike them… I really just started the series to say I tried it! It is so not the case, I am totally in love with Sookie, and all the fabulous shape shifters and vampires.
Dead as a Doornail starts off with finding out that Jason is a shapeshifter. I wasn't surprised, I knew that was going to happen after he was mangled by the shifter in the last book. I found this to be an interesting turn in the series because now someone in Sookie's own family is a paranormal. We are also introduced to a few new characters, much like every other book.
I really, really like Sookie. Every book I like her a little more than the last one. I enjoy that she is not a perfect main character, she has tons of flaws and is not scared to admit them. Alcide was back… oh, Alcide. I was actually quite a bit irritated that Sookie was so angry with him. I think Alcide is absolutely perfect… and he is a were, how much better can you get. Eric is also back to his usual self, which made me sad. Obviously ending book four, he has his "pre amnesia" memory back, less the time he spent with Sookie but I really enjoyed Eric last time. I do like him quite a bit regardless, I love his snarky and arrogant attitude but I especially loved how gentle he was with Sookie when he had no recollection of his life 🙂
I loved that Dead as a Doornail featured another mystery; this one being that shapeshifters were getting shot or killed. I was second guessing everyone and I honestly was shocked when the culprit was revealed! There was also quite a climatic scene at the end of the book and a very interesting character revealed… I cannot wait to see how he is going to come into play in the future books.
Once again, I thoroughly enjoyed this installment in Sookie's fun and dangerous world. Charlaine Harris has such a great writing style, I find it incredibly hard to put down her books once I start them!
If you enjoyed the past Sookie Stackhouse books, Dead as a Doornail will not disappoint you. I really recommend this series, and my thoughts hold true for the fifth book as well.