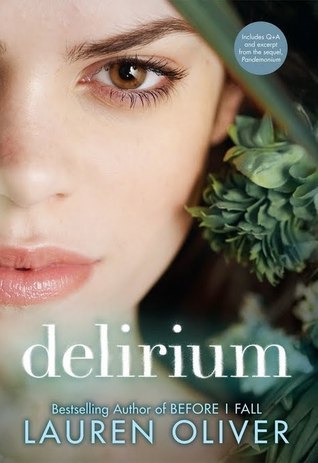 Delirium by Lauren Oliver
Series: Delirium #1
Published by HarperCollins on February 01st 2011
Pages: 480
Source: Purchased at Coles
Add on Goodreads
Amazon•Kobo•TBD
My Rating:

Before scientists found the cure, people thought love was a good thing. They didn't understand that once love -- the deliria -- blooms in your blood, there is no escaping its hold. Things are different now. Scientists are able to eradicate love, and the government demands that all citizens receive the cure upon turning eighteen. Lena Holoway has always looked forward to the day when she'll be cured. A life without love is a life without pain: safe, measured, predictable, and happy.

But with ninety-five days left until her treatment, Lena does the unthinkable: She falls in love.


I read Delirium months ago and still haven't posted a review. Why you ask? Because it honestly took me this long to put into words how much I love this book without rambling on and on 🙂
Delirium takes place in a future United States where they believe love was the cause for the shattering of the world as we know it. Due to this a "cure" is developed for love, where it blocks it from happening so you don't become "crazy". Every person when they turn eighteen will get the injection and never be able to love again. You are matched with someone who will be a perfect fit for you for the rest of your life, but you will never love them. Love is evil. After you get the cure you are unable to love but you also are completely desensitized to the world around you, nothing overly excites or upsets you.
I thought the concept of this book was amazing. Who would ever think that love would be the reason for all unhappiness? The most ironic thing is that when it is talked about and details all of the symptoms and side effects, it actually does sound like a disease? Love will make you do crazy things? Feel sick when you don't have it? Cause you not to eat? Doesn't that sound like a disease?
The world is not much different from the one we have now, except for the fact of the restrictions. There is also several barren places but what the actual world looks like I picture to be fairly similar.
The main character is Lena. Lena is just shy of her eighteenth birthday so she will be receiving her cure soon. Her best friend is Hana, who will also be receiving her cure soon. The story revolves mainly around them for the first part. Hana is the rebellious one of the two and she is trying to live her life as much as she can before it's taken from her. The summer before they will be cured they meet Alex, who they both think has the cure. It is later discovered that Alex does not have the cure, he is actually from the Wilds-where people have hidden who refuse this new life.
As you can guess Alex and Lena fall in love. Ohhhh do they ever fall in love, and I'm fairly certain that I fell in love with Alex right along with Lena. There love story is amazing and Lena realizes that she doesn't want to have the cure-she never wants anyone to take away what she feels for Alex.
I absolutely loved the characters in this book. I absolutely loved Lena. She was sooo scared of rebellion and she slowly opened up to Alex and it was beautiful. I also loved Hana, and I loved that Lena was so loyal to her even when she didn't think Hana was right.
The ending is … mind-blowing. That's the only way to describe it. I didn't have any clue that it would end like that and thankfully I had waited so long to read this that I already owned Pandemonium. I think I would have went crazy waiting. My heart was exhausted after reading this book. I felt so much for Lena and Alex.
It's an amazing, amazing book. Lauren Oliver is such a wonderful writer, she completely engulfs you in the story and the world she has created. If you haven't read this book, I highly recommend it!