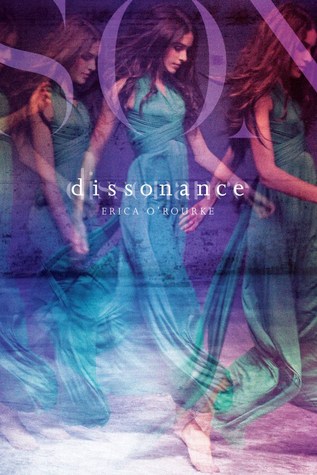 Pages: 496
Publication: July 22nd 2014 by Simon & Schuster Books for Young Readers 
Series:  Dissonance #1
Source: Simon & Schuster via Edelweiss
Amazon • TBD • Kobo • Goodreads

Delancy Sullivan has always known there's more to reality than what people see. Every time someone makes a choice, a new, parallel world branches off from the existing one. Eating breakfast or skipping it, turning left instead of right, sneaking out instead of staying in bed ~ all of these choices create an alternate universe in which an echo self takes the road not travelled and makes the opposite decision. As a Walker, someone who can navigate between these worlds, Del's job is to keep all of the dimensions in harmony.

Normally, Del can hear the dissonant frequency that each world emits as clear as a bell. But when a training session in an off-key world goes horribly wrong, she is forbidden from Walking by the Council. But Del's not big on following the rules and she secretly starts to investigate these other worlds. Something strange is connecting them and it's not just her random encounters with echo versions of the guy she likes, Simon Lane.

But Del's decisions have unimaginable consequences and, as she begins to fall for the Echo Simons in each world, she draws closer to a truth that the Council of Walkers is trying to hide ~ a secret that threatens the fate of the entire multiverse.


If there was a single theme that I can pick from 2013 that I fell in love with it was definitely parallel worlds. They absolutely INTRIGUE me, and I cannot get enough of these stories so needless to say when I seen Dissonance on Edelweiss I jumped at the opportunity to read this one.
Surprisingly none of the characters really took hold on me except for one. I liked Delancy and Simon, they were definitely interesting and I liked how there feelings spread across the multiverse but it wasn't until nearly the end of the story that I truly cared about what happened to them. The character that I did love immediately though, was Monty, Del's grandfather. I just adored him from the second he came into the story. He has a lovely relationship with Del and I really can't wait to see what happens with him in the second book (because SERIOUSLY?! there has to be more there!!).
Despite the characters not wowing me, what really makes the whole book is the world building. It's absolutely PHENOMENAL. The way it's explained is fascinating and I love that it's compared to music. It's very different from any other parallel world novel that I read and I couldn't get enough of the echos. I think it just fascinates me because it's infinite… there are so many Echo's that you could cross to. And the cleaving, the inversions, the tuning… it was all remarkable and explained so, so well. Often in science fiction, the world building is confusing and is dumped upon you but that's not the case at all in Dissonance. It's a wonderfully crafted and well thought out world and has you nearly itching to be a part of it.
The ending shocked me, the story went down a whole different road than I thought it was going. I'm not entirely sure what to make of one of the plot points and I'm sure there is more there but it's a given that I will be continuing this series. I'm actually really sad upon finishing this book and I had tears in my eyes during the last few paragraphs. It's going to be a looooooooong wait for the second book!