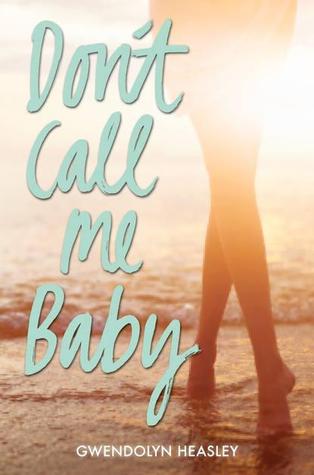 Pages: 304
Publication: April 22nd 2014 by Harper Teen 
Series: N/A – Stand Alone
Source: Harper Teen via Edelweiss
Amazon • TBD • Kobo • Goodreads

All her life, Imogene has been known as the girl on THAT blog.

Imogene's mother has been writing an incredibly embarrassing, and incredibly popular, blog about her since before she was born. Hundreds of thousands of perfect strangers knew when Imogene had her first period. Imogene's crush saw her "before and after" orthodontia photos. But Imogene is fifteen now, and her mother is still blogging about her, in gruesome detail, against her will.

When a mandatory school project compels Imogene to start her own blog, Imogene is reluctant to expose even more of her life online…until she realizes that the project is the opportunity she's been waiting for to tell the truth about her life under the virtual microscope and to define herself for the first time.

Don't Call Me Baby is a sharply observed and irrepressibly charming story about mothers and daughters, best friends and first crushes, and the surface-level identities we show the world online and the truth you can see only in real life.


Don't Call Me Baby is not a type of book that I normally go for but when I seen that it was about a girl whose mother was a "mommy blogger" that immediately piqued my interest.
I liked Imogene, the main character, very much. She had a bit of spite in her and was slightly dramatic but altogether a very realistic character. I empathized with her throughout the whole book because her mother was so flighty though. I think it would be AWFUL to live in a small town and have everyone, along with the rest of the world, know what you were going through in every aspect of your life. Imogen's mother Meg was SO annoying! Her life was her blog and she just pushed and pushed Imogene further and further away. Grandma Hope and Imogene's father were much better, but on the other hand, they didn't really stick up for Imogene very much and that grated on my nerves. Sage was a fun best friend as well, and I liked how they both shared the experience of being daughter's of bloggers.
Don't Call Me Baby was definitely one of the most realistic contemporaries I have read in a while. Imogene and Sage's reactions and conversations were very much like what you would expect from a ninth grader and their respective crushes were also extremely realistic. I very much enjoyed that there wasn't any of the dreaded insta love here, and the romances that the girls had were light, fun and sweet.
I loved the way it was written. There are alternating blog posts from Mommylicious, Imogene, and Sage's blogs that open up into the chapter. I really liked that aspect and the blog posts were written very distinctively so I could easily tell who's post it was without reading the title. I also loved the chapter titles, they were fun and catchy and really went well with the theme of the chapter.
The story is fun, light and easy to read. I read the entire book in one sitting because the writing style was just so grabbing. While the story got a bit draggy at times, I enjoyed the messages that were given and I liked how everything came together in the end.
All in all, I would recommend Don't Call Me Baby if you are interested in a light, fun, one sitting read. It was interesting to read the perspective of a blogger's daughter and it was very easy to put myself in the main character's shoes.