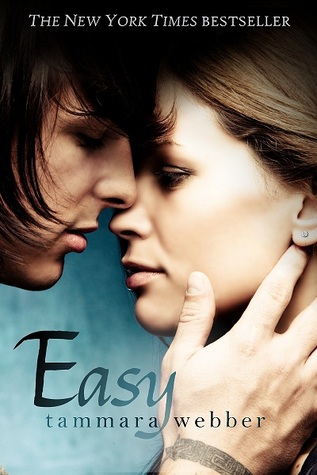 Pages: 310
Published: November 6th 2012 by Berkley Trade
# in Series: N/A – Standalone
Source: Purchased at Chapters Indigo
The Book Depository // Amazon // Chapters Indigo
 Summary from Goodreads:

"Rescued by a stranger.
Haunted by a secret
Sometimes, love isn't easy…

He watched her, but never knew her. Until thanks to a chance encounter, he became her savior…

The attraction between them was undeniable. Yet the past he'd worked so hard to overcome, and the future she'd put so much faith in, threatened to tear them apart.

Only together could they fight the pain and guilt, face the truth—and find the unexpected power of love."
My Thoughts & Review:
Easy is about a girl, Jackie, who is in her first year of college.  On the night of a Halloween party, Jackie is assaulted and almost raped but a mysterious guy comes to her rescue.  Several days later, Jackie goes to a class she has been ditching because of her ex boyfriend and sees that her saviour is actually in her class.
I'm not even sure what I can bring to the table for this book that hasn't already been said.  I was kind of late jumping aboard the hype on this one, but I'm so glad I finally decided to pick it up. There is a reason there is so much hype. It is amazing.
I absolutely love the main character, Jackie.  Her emotions are so raw and realistic. Tammara Webber did an amazing job of telling a story with such heavy themes but giving this issue the type of delivery it deserves.  I won't ruin the ending for anyone that hasn't read it however this is an issue book done proper.  It really hits on an emotional level , you can see the struggles… but also the character growth.
And Lucas…. ooooh Lucas.  First off I was instantly attracted to him because the character on the cover reminds me of Caleb from Pretty Little Liars and second of all he is amazing. He is so sweet, romantic, genuine and tattooed(just to complete the package). Mmmm.
It is a "new adult" book, and the themes are mature.  If issue books are not your thing, you may not enjoy it but if you love a real romance, a wonderful contemporary you will probably adore Easy.  This is hands down in my top books of 2012.  The ending is wonderful and fabulous and shows just how strong women can be.
In love.
My Rating:

 Happy Reading!