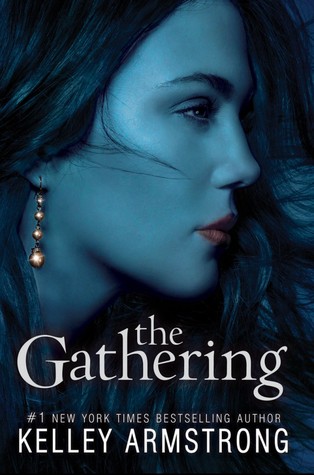 The Gathering by Kelley Armstrong
Series: Darkness Rising #1
Published by HarperCollins on April 12th 2011
Pages: 359
Source: Purchased at Coles
Add on Goodreads
Amazon•Kobo•TBD
My Rating:

Sixteen-year-old Maya is just an ordinary teen in an ordinary town. Sure, she doesn't know much about her background - the only thing she really has to cling to is an odd paw-print birthmark on her hip - but she never really put much thought into who her parents were or how she ended up with her adopted parents in this tiny medical-research community on Vancouver Island.

Until now.

Strange things have been happening in this claustrophobic town - from the mountain lions that have been approaching Maya to her best friend's hidden talent for "feeling" out people and situations, to the sexy new bad boy who makes Maya feel . . . . different. Combine that with a few unexplained deaths and a mystery involving Maya's biological parents and it's easy to suspect that this town might have more than its share of skeletons in its closet.

What a wonderfully easy to read novel.  I was coming off a bad reading slump from City of Ashes and Kelley Armstrong made it all go away 🙂 Honestly there wasn't anything overly surprising, or mind-blowing about this book but it was very much an enjoyable read and very quick paced.
I absolutely loved Maya as a character, she was well-developed, knew what she wanted and strong-minded. I also loved her relationship with Daniel and I adored how much she loved animals. I am also interested to see how the relationship with her and Rafe plays out in future books.
I was actually very surprised that she is a "skin-walker", I had only quickly read the synopsis of the book and kind of went into it blindly. I hadn't read The Darkest Powers series so I had no idea about any of this. Suddenly when it turns out Maya is destined to turn into a cougar, I was astonished!
This was a very light read, very captivating and I really enjoy Kelley Armstrong's writing style. It was left off at a perfect part because you are almost for certain to pick up the second, just to see what happens!
Very pleased.