I was so excited to read Transfusion, the first installment in Aurora Sky: Vampire Hunter, Nikki Jefford's other series. I received Entangled for review last year and I really enjoyed it so I was really looking forward to reading her other series!
Be sure to stop by the rest of the tour stops here!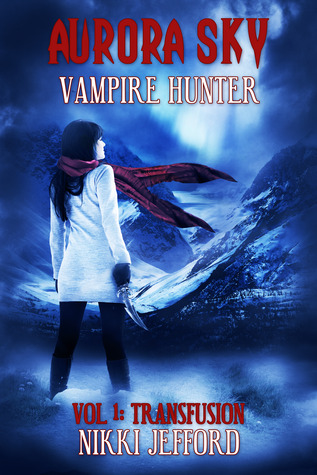 Pages: 242
Published: December 09th 2012
# in Series: Aurora Sky: Vampire Hunter #1
Source: Xpresso Book Tours for tour review
If there is one thing eighteen-year-old Aurora Sky wants, it's to get off the iceberg she calls home. Being kissed before she graduates wouldn't hurt either.

Then a near-fatal car wreck changes everything. Government agents step in and save Aurora's life in exchange for her services as a vampire hunter. In Alaska. Basically she's a glorified chew toy. All thanks to her rare blood type, which sends a vampire into temporary paralysis right before she has to finish the job… by hand.

Now Aurora's only friends are groupies of the undead and the only boy she can think about may very well be a vampire. And if he's a vampire, will she be forced to kill him?
My Thoughts & Review:
As I said above, I was really excited to be part of this tour because I had read Entangled and really enjoyed Nikki Jefford's writing style. Needless to say Transfusion thrilled me, it was everything I was hoping for and more!
The main character, Aurora, was actually not a favorite of mine. I liked her more coming onto the end of the book but for the first part of the story I thought she was really moody and reactive. Ok, granted she just found out she was a vampire hunter but she was still so mean to everyone around her and I didn't enjoy that a lot. I really enjoyed Noel, although we didn't see much of her or find out what she really was about until close to the end so I hope she plays a big part in the next novel. I also loved Dante… oh Dante. I loved his humor and I'm hoping that him an Aurora end up together at some point! Surprisingly Transfusion wasn't totally character driven, mostly plot driven but I still really enjoyed it.
The entire vampire concept is entirely unique. It was so refreshing to read a vampire novel like it. The "bad" vampires more reminded me of zombies, the vampire hunters that had vampire blood and then the "good" vampires? Everything was so different from any vampire novel I had read and I really enjoyed that. It actually was probably my favorite part of the novel because I had no idea what new concept was going to pop up next.
I found Aurora Sky so incredibly easy to read, I literally sat down and read it in a matter of hours. I could not put it down because I was so intrigued with what was going to happen next. The ending is a cliffhanger, and I am being serious when I say I CANNOT wait for the second installment. I honestly have no idea where this story is going to go now.
If you love vampire stories but are interested in reading something new and unique, definitely pick up Transfusion! You will not be disappointed!
My Rating:


The Giveaway