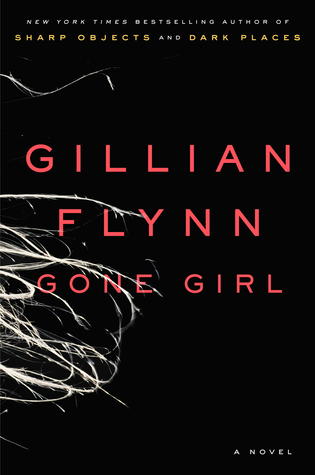 Pages: 419
Published: May 24th 2012 by Weidenfeld & Nicolson
# in Series: Standalone
Source: Purchased from Coles
Amazon | The Book Depository | Chapters Indigo | Kobo
Summary from Goodreads:

"Marriage can be a real killer.

One of the most critically acclaimed suspense writers of our time, New York Times bestseller Gillian Flynn takes that statement to its darkest place in this unputdownable masterpiece about a marriage gone terribly, terribly wrong. 

On a warm summer morning in North Carthage, Missouri, it is Nick and Amy Dunne's fifth wedding anniversary. Presents are being wrapped and reservations are being made when Nick's clever and beautiful wife disappears from their rented McMansion on the Mississippi River. Husband-of-the-Year Nick isn't doing himself any favors with cringe-worthy daydreams about the slope and shape of his wife's head, but passages from Amy's diary reveal the alpha-girl perfectionist could have put anyone dangerously on edge. Under mounting pressure from the police and the media—as well as Amy's fiercely doting parents—the town golden boy parades an endless series of lies, deceits, and inappropriate behavior. Nick is oddly evasive, and he's definitely bitter—but is he really a killer?

As the cops close in, every couple in town is soon wondering how well they know the one that they love. With his twin sister, Margo, at his side, Nick stands by his innocence. Trouble is, if Nick didn't do it, where is that beautiful wife? And what was in that silvery gift box hidden in the back of her bedroom closet?

With her razor-sharp writing and trademark psychological insight, Gillian Flynn delivers a fast-paced, devilishly dark, and ingeniously plotted thriller that confirms her status as one of the hottest writers around."
My Thoughts & Review:
I'm not going to summarize Gone Girl. I do not want to risk the chance I may leak spoilers because this is one of those books where it will ruin the entire story. Take the synopsis and go with it.
I had a love hate relationship with Nick. I thought he was extremely interesting but I was so confused why he did half the stuff he did. I'm not entirely sure why he started lying to the cops from the get go, it just all around confused me. I did like the dryness of his character though. I hated Amy. At first I did like her but the more and more that was revealed in her diary pages, I hated her.  I'm really not going to say any more about the characters themselves because, like I said above, I don't want anything to be revealed. One thing I do have to say though is Gillian Flynn knows character development. There was absolutely no room for questions in her character building. If I wondered about something… it was soon answered. She had those characters, theirs flaws, theirs personalities perfected to a tee.
The story was absolutely astonishing. I knew there was a twist going in. By the time I read this, it was out for so many months and had already been voted a pick for 2012 so I knew there was a twist but I had no idea it would take it to the level it did. I heard Gillian Flynn was an amazing thriller author but really? Those words don't even compare… I didn't expect half of what happened in Gone Girl.
I absolutely adored Gillian Flynn's writing style. I cannot even pinpoint what it is, but there is something about her writing that just completely sucks you in. Upon finishing Gone Girl I went and bought her other two books… I heard they were even more mind-blowing than this one, which must be a lot.
The only reason I gave it 4 stars is because I thought the ending dragged on a bit. When there was about 25 pages left I found myself wondering where it was going to finish… and I could almost guess how it was going to end(but not entirely!).
All in all this was an amazing thriller. I am finding it really hard to get into adult books lately, I find they are really draggy but this was the completely opposite, I didn't want to put it down. I know this review doesn't really say much about the book but if you have read it you will know why I am being so vague. Just pick it up… I doubt you will be disappointed 😉
My Rating:

 Happy Reading!