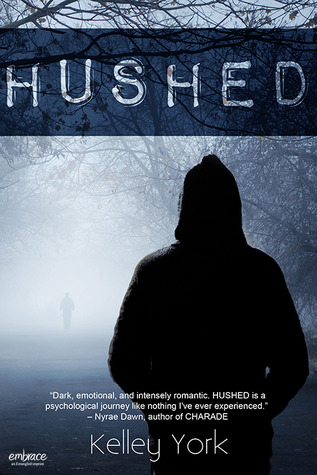 Pages: 244
Published: November 11th 2013 by Entangled Embrace 
Series: N/A – Stand Alone
Source: From Entangled Publishing via Netgalley
Amazon | TBD | Kobo | Goodreads

Eighteen-year-old Archer couldn't protect his best friend, Vivian, from what happened when they were kids, so he's never stopped trying to protect her from everything else. It doesn't matter that Vivian only uses him when hopping from one toxic relationship to another – Archer is always there, waiting to be noticed.

Then along comes Evan, the only person who's ever cared about Archer without a single string attached. The harder he falls for Evan, the more Archer sees Vivian for the manipulative hot-mess she really is.

But Viv has her hooks in deep, and when she finds out about the murders Archer's committed and his relationship with Evan, she threatens to turn him in if she doesn't get what she wants… And what she wants is Evan's death, and for Archer to forfeit his last chance at redemption.


I discovered Hushed back in September while looking through Halloween reading lists. It was mentioned there as a creepy, Halloween-esque read, and since I'm not one for overly creepy or scary reads this sounded like it would be perfect. Unfortunatly I didn't get to it in October but when I seen that it was available on Netgalley for review in November, I immediately requested it.
Archer was a really strange main character, almost unlikable but then he had these out of the blue qualities that made you not entirely dislike him. The story opens with Archer committing a murder, so its hard to fall in love with a character like that, then shortly after it's starts to be explained why he is committing these murders: To make his best friend, Vivian(who was raped by these guys), feel safe. While I certainly can't say I loved Archer, I thought he was definitely an interesting character, and I enjoyed his perspective as the main character. Vivian on the other hand, I flat-out hated. Perhaps I was ruined against her by the synopsis as it's already said that she is manipulative, but I don't think so. She just was nuts. I have a hard time trusting anything a manipulative character puts out there so I always had my back up when Vivian came up. I couldn't stand her back and forth, her obvious weakness to asshole guys and her need to have Archer be her hero. Oh, and did I mention that she was out of her mind? Now Evan… Oh, Evan. If I thought Archer was hard to wrap my brain around, Evan was far more confusing. I really liked him, he was gentle and loving, but he clearly had a few issues also because he didn't even MIND having a MURDERER around. So strange, but nevertheless, I did enjoy him.
I loved the romance between Archer and Evan. That was probably one of my favorite things about Hushed, which I'm not sure was the intention of the book. I loved watching Archer discover himself and completely let go when he was around Evan. It was sweet and touching, and so innocent. It wasn't rushed, it certainly wasn't insta love and I thoroughly enjoyed that element of the book.
The plot was very fast paced, and at times hard to put down. The story was fascinating, and while sometimes predictable, I just wanted to get to the end and see how it all played out. There are a few twists, one that I guessed right as we were upon it, and the ending of the story was not what I expected either. I really enjoyed Kelley York's writing… she turned a thriller into a romance that had quite a few heartfelt moments.
I'm not sure exactly how to explain why I only gave it three stars, I really enjoyed the book. It could be the fact that I took quite a long time to read it (reasons not relating to the book) so perhaps some of the thriller vibe was lost. I think the characters played into my final rating as well, and not because they weren't wonderfully created, but just because I personally I had a hard time with them.
That being said, I really enjoyed Hushed. It's fast paced and totally different from any new adult stories I've read. It's well thought out and the story is unique so I absolutely recommend picking this up, especially if you want something different in the New Adult genre. This will certainly not be my last Kelley York book!