Happy Father's Day!  As it is Father's Day today I decided to post a review on a book that, in my opinion, has one of the greatest father's ever!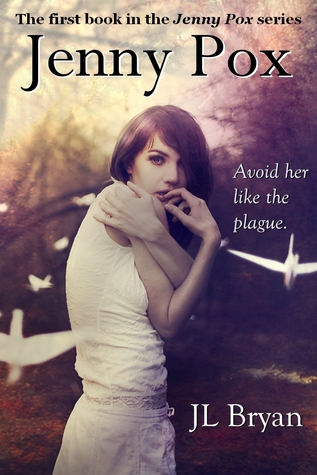 Jenny Pox by J.L. Bryan
Series: The Paranormals #1
Published by Self Published on July 22nd 2010
Pages: 312
Source: Purchased on Kindle
Add on Goodreads
Amazon•Kobo•TBD
My Rating:

Eighteen-year-old Jenny Morton has a horrific secret: her touch spreads a deadly supernatural plague, the "Jenny pox." She lives by a single rule: Never touch anyone. A lifetime of avoiding any physical contact with others has made her isolated and painfully lonely in her small rural town.

Then she meets the one boy she can touch. Jenny feels herself falling for Seth...but if she's going to be with him, Jenny must learn to use the deadly pox inside her to confront his ruthless and manipulative girlfriend Ashleigh, who secretly wields the most dangerous power of all.


This is such a heartbreaking, heartwarming, and horrific story all in one.  The relationship that Jenny has with her father will pull at your every heart string.  As Jenny has a deadly touch even her father cannot touch her for fear that he will die.  The story opens with a scene from when Jenny was just a child and she brings a "present" for her father to see-a snake that she has killed.  Her Dad then goes and puts on his "cuddle suit": a thick suit that he has made, with a mask so that Jenny can curl up with him for comfort.  It's so heartwarming that Jenny's father will go to such lengths to still keep his daughter close, even though she could kill him.
The entire story centers around Jenny and how she is an outcast due to the fact she has to keep her self somewhat seperated from the rest of her peers as she has "Jenny Pox".  Jenny has to wear gloves at all times, even in the summer, to prevent her from touching anyone's flesh.  This causes Jenny to be the brunt of her classmates jokes.
She encounters Seth – a boy she goes to school with – in a whole new light.  Seth also has a magic touch- he can heal people.  Seth is the only person Jenny has ever been able to touch, and they start to fall in love.  Ashleigh is Seth's (ex)girlfriend-she also has a magic touch, but Ashleigh uses her power to manipulate people.
The ending takes a dark twist that you just will not expect, and it will leave you on the edge of your seat till the last word.  Beautifully, beautifully written.
I downloaded this from Amazon as it was currently a free e-book. I'll be honest in saying that I did not have high expectations.  I had just recently gotten my tablet and had read another free book(I will not name) that I simply hated, but I decided to give this one a try.  Needless to say, one bad experience should not spoil the rest.  This book was amazing… and I'm so glad I decided to read it as now it's pointed me towards J.L Bryan as an author and I'm so interested to read his other books.  I haven't read the second and third books in this trilogy, Tommy Nightmare and Alexander Death but they will not be far off in the future!
This book is still listed free on Amazon at this time… go discover the wonderful world of "Jenny Pox"!